It's time to Fill the Cookie Jar with Autumn themed cookies. On the first Thursday of every month, the Fill the Cookie Jar bloggers bake cookies based on a theme and share them on our blogs. Be sure to scroll below the recipe to see what goodies everyone else made with our Autumn theme. I made these healthy fruit and nut filled Amish Sugarless Cookies.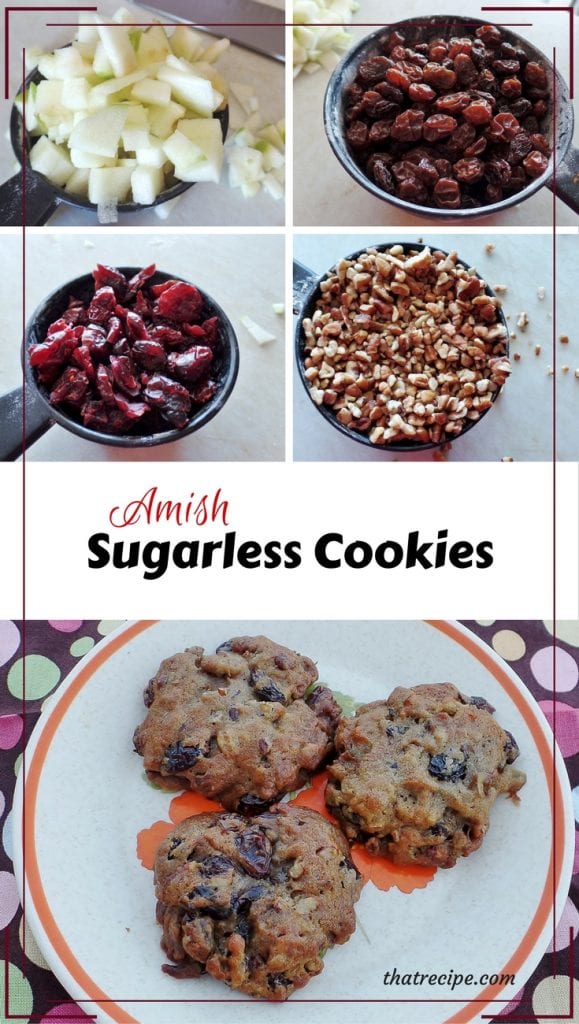 The recipe for these wholesome beauties is from The Beverly Lewis Amish Heritage Cookbook (affiliate link). Beverly Lewis is the author of several book series including The Heritage of Lancaster County (affiliate link) which revolves around the story of a rebellious young Amish woman.
They are loaded with fresh apples, raisins,  dates (which I didn't have so I swapped in some dried cranberries) and nuts. All of which just scream Fall to me.I was low on all purpose flour so I swapped in a gluten free baking mix that doesn't have any leaveners and the cookies came out perfectly.
The cookies are simple to make, but they take a bit of extra time because of the cooling after you boil the fruit and then the chilling of the dough before baking.
So the next time you are craving a little something sweet, but want to keep it healthy, give these cookies a try.
Amish Sugarless Cookies
Print recipe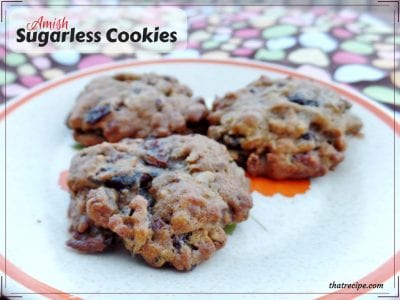 Amish Sugarless Cookies: cookies loaded with fruit and nuts instead of sugar. From Beverly Lewis Amish Heritage Cookbook. gluten free cookies
Ingredients
1 cup raisins
1/2 cup dates (chopped)
1/2 cup apples (chopped)
1/2 cup water
1/2 cup shortening
2 Large eggs (beaten)
1 tablespoon honey
1 teaspoon vanilla
1 teaspoon baking soda
1 cup gluten free baking mix or all purpose flour
1/2 cup walnuts, pecans or almonds (chopped)
Note
If using a gluten free baking mix with leaveners already added to it, omit the baking soda.
Directions
In a medium saucepan, boil raisins, dates and apples in 1/2 cup water for 3 minutes.
Mix in shortening and allow to cool for 5-10 minutes.
Add beaten eggs, honey, vanilla and baking soda mixing well.
Stir in flour and nuts then refrigerate dough until chilled, about 1 hour.
Preheat oven to 350 degrees.
Drop dough by teaspoonful on a baking sheet. Bake for 10-12 minutes.
Until next time, happy eating.
~Audrey
Save
Save
Save