Texas Caviar
Print recipe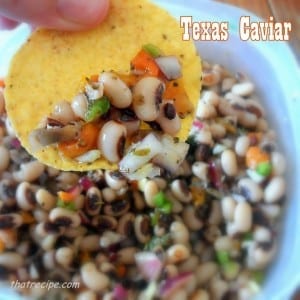 Black eyed pea salsa with cowpeas, onions and peppers in a zesty dressing. Serve as a salsa or a side dish.
Ingredients
4 cups black eyed peas (1 pound dried or 2 15-ounce cans)
1 cup onions (red or yellow) (chopped)
1/2 cup roasted peppers (chopped)
1-2 jalapeno peppers (seeded and finely diced)
1-2 clove garlic (finely minced)
1/3 cup olive oil
1/3 cup red wine vinegar
salt and pepper to taste
Note
Adjust the amount of jalapeno and garlic to taste.
Directions
For dried beans: Cook the beans according to package directions. Do not overcook! You do not want mushy beans for this recipe. Stop cooking as soon as the get soft (I test be eating one when they are close to being done). Drain
the hot water, put in a bowl and fill with cold water to stop the cooking. Drain.

For canned: drain and rinse then beans.
Mix all ingredients except salt and pepper. Cover and chill in the refrigerator overnight or at least 4 hours. Add salt and pepper to taste.