The title of this entry probably makes no sense to anyone except my brother or perhaps those that have travelled with him north on the 880 from Fremont towards Hayward. Hopefully, he will get a nice chuckle when he reads it.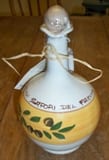 A new year brings a new look to www.thatrecipe.com.  After much deliberation, I opted for an updated color scheme inspired by this beautiful bottle of olive oil I received from my mother-in-law for Christmas.
Another change I made is the opening of an Amazon affiliate store and links to Amazon within the blog.  For those not familiar with the program, Amazon pays a percentage of all items sold through its affiliate sites. Eventually I may add other affiliate marketing that is a bit more obvious, but I will make a few promises now:
all advertising will be "food" related (except in the misc. category of the store which may include some "fun" products).
anything in the store will be items I have or are on my wish list.
there will

never

be any advertising on the recipe pages.
all money earned after paying for the website hosting will be donated to a food related charity
I'm currently leaning towards Share our Strength and Meals on Wheels. If you have any suggestions, please let me know.
Until next time, happy eating.
~Audrey