My oven has been working overtime lately with some pretty tasty treats popping out.
First was my 4 year old's birthday cake. He asked for a chocolate Mike the Knight cake. He rarely asks for anything specific, so when he does I always try to come through. A quick trip to Hobby Lobby and we found some knight figures and a castle cake pan. I hesitated buying a pan I might only use once, but I justified it by thinking my friends with girls would LOVE to borrow it. Also, I noticed a suggestion on the front for decorating it like a sand castle, which I plan on doing later this summer.
For the cake I wanted a slam dunk recipe, so I went with the master - Cake Boss, Buddy Valastro. I even did something completely unnatural for me: followed the recipe EXACTLY including ingredients and directions! No substitutions or skipping steps (including making sure the batter was between 70 and 73 degrees fahrenheit to prevent it from crowning)!
QUICK SIDE STORY: When I was searching for the Cake Flour (top shelf above all of the other flours in case you were wondering), a woman was staring at the boxes of corn meal looking rather perplexed. Finally, she asked me if I had ever made cornbread. Stifling a laugh and fighting the urge to say "I am half Texan - I make cornbread at least every other month!", I showed her what to buy and told her to cook in a cast iron skillet if she wanted true Texas cornbread like my Mama taught me to make (scroll to the bottom of the link to find the recipe).
Back to the cake: I admit the final product looks like something Buddy may have created when he was 4, but Justin LOVED it and the taste more than made up for my lack of decorating skill. My mother doesn't care for chocolate cake while my mother-in-law is a fervent chocoholic. Both declared it delicious, as did the rest of us.
One of his birthday presents was Sesame Street "B" is for Baking: 50 Yummy Dishes to Make Together by Susan McQuillan. I think this one will end up as well worn as C is for Cooking. He loves to look at the pictures and read the ingredients as well as begging me to make some of the recipes. If you have kids in the Sesame Street age that enjoy helping in the kitchen, this book is a slam dunk. If your kids are older, or you don't have any kids, but are looking for a cookbook with healthy recipes using "real" ingredients that are readily available at any grocery store, this might be one for you to check out. No, seriously. She does things like substitute olive oil for part of the butter, some of the flour with whole wheat flour and using low fat dairy products.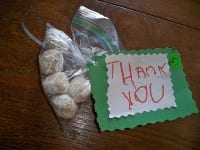 For End of the Year Thank You presents for his teachers we made Rosita's Lovely Little Almond Tea Cakes (substituting pecans) which is a Mexican Wedding Cookie/Russian Tea Cake with a little whole wheat flour and a little olive oil. They tasted pretty true to the original, but I will not use Extra Virgin Olive Oil next time, or maybe a little less with a little more other flavoring. He was so proud to hand them out on the last day of school!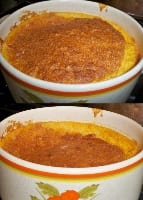 He also begged to make Pumpkin Pudding (think pumpkin pie filling without the crust), but I didn't have pumpkin and doubted he would actually eat it so I made cooked chocolate pudding instead, a first for me.  Today, we whipped up a Carrot Puff (basically a carrot souffle/pudding). It puffed up while baking and collapsed, just like it was supposed to! Too bad he wasn't impressed enough to actually try it. Sigh, baby steps.
It's a good thing I have been eating all of those vegetables from Harvest2U to balance out some of this naughtiness! I can hardly wait to see what is in my box this week.
With the weather getting ready to heat up I may take a break from baking for awhile. But my little baker may not agree with that idea.
Until next time, happy eating!
~Audrey
UPDATE: June 5, 2012.
Just a few short hours after I swear off baking for awhile, a college friend shared a recipe on Facebook for No Knead Four Ingredient Overnight Bread Anyone Can Make. You KNOW I had to try that one!
9:15pm - mixed all ingredients (used ½ all purpose and ½ white whole wheat flour) and went to bed
6:45am - peeked in on the dough which was rising nicely, but since I was leaving in 2 hours I waited almost the full 12 hours.
8:45am - punched down the dough, put it into a loaf pan and left to do my errands
10:40am - came home to find the dough perfectly risen and ready for the oven. Brushed on a teaspoon of melted butter then popped it in a preheated oven.
I have a three (oops, FOUR) year old, so kneading bread is not a big deal for me. I just plop it on a table and let him squish and smash until it is nice and gluten-y. But, this recipe takes the guesswork out of knowing when it has been kneaded enough. You must be sure to have fresh yeast or this will not work. If your yeast has been sitting around for a few months, add the yeast to the water for about 5 minutes before mixing to see if it starts foaming, if not your dough will probably not rise. The only tough part about this recipe is the 2 hour wait for the second proof (rising). It'd be hard to time it for a work day to make in time for breakfast or dinner. But, you wouldn't have time to make a traditional loaf of bread in that time either.
All in all, this recipe is definately a keeper and I am looking forward to browsing around Chef Tess' site for more ideas.