Confession time, I am such a food geek that I recently debated "fats" with my friend, Carol the Pastry Chef. She made some incredible sounding brown sugar snickerdoodle cookies that came out rather flat and she hypothesized that she had left the butter out a little too long. A few days later, Laura Groch wrote an article for The Californian discussing other possible causes for flat cookies, so I shared it with Carol. She was horrified at the mere mention of the word "margarine" and added that she doesn't like the taste of shortening in cookies - only butter for her! And this whole exchange had me thinking about fat this week, and not just the double layer around my midsection.
Saturated, mono unsaturated, poly unsaturated, hydrogenated, trans, blah blah blah! It is enough to make your head spin. My ultra simplified explanation: solid at room temperature = bad (use in moderation). If you'd like a more thorough explanation, this about.com article does a good job of explaining it in detail while still keeping it simple.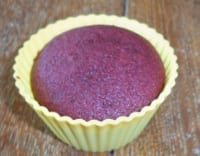 You need some fat in your diet, but we probably could all consume a little less. To reduce fat in baked goods I use things like yogurt, applesauce and ground flaxseed. Changes like these will also affect the texture, how it rises and the final taste, so some trial and error is necessary.  The Red Velvet Cake with Beets and Carrot Cake Lite recipes are a few examples of how I lowered the fat without too much compromise.
One thing I do not recommend doing is substituting olive oil (particularly extra virgin olive oil) in to most baked goods. In B is for Baking, author Susan Mcquillan substitutes olive oil in many of the recipes to make them healthier, including snickerdoodles! Perhaps, using pure olive oil might not make it so obvious but my husband and I both thought they had an odd aftertaste. Justin couldn't have cared less, but he's only 4, a cookie is a cookie.
For me it usually comes down to taste and what I have on hand, and I don't usually have butter around.  I am frugal in case I haven't mentioned it before! And if I have butter in the house I have a tendency to over use it (real buttered popcorn anyone?).  Truth be told, we tend to be power eaters in this house and don't always notice the subtle differences between butter, margarine and shortening.  Carol is the smart one with amazing will power that can eat only one or two cookies or brownies and walk away.  Sigh, I wish I were that strong.
There are two significant exceptions to my liberal interchangeability of fats:
Shortbread absolutely positively MUST be made with butter.
Angel Cookies absolutely positively MUST be made with shortening.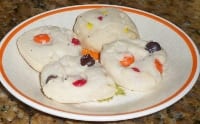 Both recipes have so few ingredients that the fat is so highly noticeable and to reverse that or use margarine would result in something non-edible in my opinion.  But if you like it, enjoy. Because ultimately, that is what it is all about isn't it?
Until next time, HAPPY EATING!
~Audrey