Blueberries and BBQ Bread, B, B, B!  Technically it is grilled bread, but then the alliteration wouldn't work.  Most people don't know the difference between grilling and BBQ anyway, but that is a topic for another blog.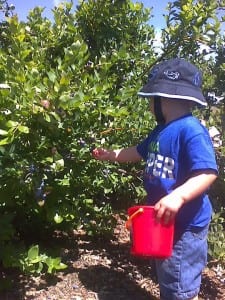 Blueberries:
Justin and I went blueberry picking and brought home 2 quarts of perfectly ripe, delicious berries!  We will only eat so many fresh ones so I got busy in the kitchen making blueberry muffins, blueberry muffin bread , blueberry jam, and a blueberry coffee cake. I won't share the recipe for the coffee cake because it still needs tweeking.
The jam was surprisingly simple. You need ¾ to 1 cup of sugar for every cup of berries.  Mash the bottom layer of berries in a stainless steel pan then add the rest (or leave the berries whole and add ¼ to ½ cup of water). Heat over medium until the berries are tender.  Add the sugar then bring to a boil. Reduce the heat and simmer, stirring often to prevent scorching, until the mixture reaches 9 degrees over the temperature of boiling water for your area. You can also test by putting a small dab on a plate, if it doesn't run it is done.  This will take 20-30 minutes.
An interesting note in the jam recipe that I wish I had read before I picked the berries is that if you use berries that are slightly underripe, still in the deep red stage, the jam will supposedly taste like Scandinavian lingonberries.
BBQ Bread: Looking for something a little different for your Memorial Day BBQ – try grilled bread.  Not just warming the hamburger buns or some garlic bread (both of which I enjoy), but
real bread dough that is cooked directly on the grill and comes out like a flatbread which can be eaten as is or turned into a pizza.  It is easy to do, with simple ingredients and only needs to rise for 1 ½ hours so you don't need that much advanced planning.
The recipe can be doubled easily, but to make more than that you probably want to make it in batches to make kneading easier.  A stand mixer with bread hook attachment or the Dough Only setting of a bread maker help with this task.
For pizza, be sure to use indirect heat and make sure the grill does not get too hot.  The dough needs to cook a bit more slowly to allow time for the cheese to melt. I am lucky enough to have a metal pizza pan that I can use on the grill for my pizza.  You can put the pizza directly on the grill, but transferring it on and off without losing toppings and getting completely frustrated is a challenge.  If you don't have a pan or a pizza peel (the big wooden spatula), I recommend making smaller pizzas and lightly grilling one side first.  Remove from the grill, put your favorite toppings on the grilled side and then return to the grill.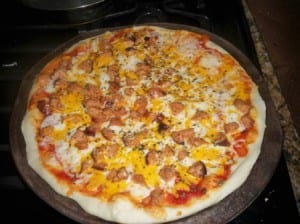 Until next time - happy eating!
~Audrey