I have no idea why it is called Monkey Bread. It doesn't look like a monkey, it doesn't have bananas in it. Wikipedia, doesn't know either but conjectures that it looks like a Monkey Puzzle Tree. Okay, if you say so.
Basically it is a yeast dough, cut into bits, rolled in cinnamon and sugar and baked in a tube or Bundt pan. You can buy refrigerator biscuits or make your own like I did in my last post. On Monday I made a full recipe of the biscuits and cooked up about 1/2 the recipe and put the rest in the fridge. On Wednesday I made the Monkey Bread with the other half.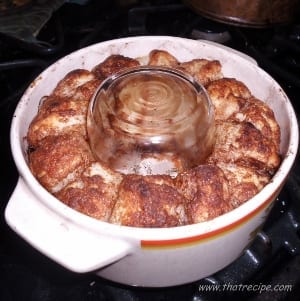 I wasn't sure if J was really going to eat it so I only made a small one. Since I don't have a small tube pan, I made my own by putting a glass cup inside a crockery baking dish to make my own tube pan.  Just make sure everything is oven proof. It came together very quickly and we had breakfast within 30 minutes.
Maybe, all of you don't have an early riser that is up four hours before school like I do, but this is definately do-able for a weekend morning. Or maybe a brunch, or dessert, or late night snack or heck anytime you are craving it.
Monkey Bread
Print recipe
Simple monkey bread recipe, cinnamon sugar coated pull apart breakfast bread.
Ingredients
2 cans refrigerator biscuits
1/2 cup granulated sugar
2 teaspoons cinnamon
1 cup firmly packed brown sugar
3/4 cups butter or margarine (melted)
Note
Instead of pre-packaged biscuits you can use one recipe of Refrigerator Biscuits.
Variations: add nuts, raisins or other dried fruits while layering the balls or add some peanut butter or butterscotch pudding powdered mix into the syrup to pour on top.
Directions
Preheat oven to 400 degrees. Coat tube/bundt pan with baking spray. Mix cinnamon and sugar together in a medium sized bowl, roll tablespoon size scoops of biscuit dough in the cinnamon sugar mixture and layer in the tube pan.
Mix brown sugar and melted butter, pour over the dough in the pan. Bake until done, about 20 minutes when a toothpick inserted in one of the biscuits comes out clean. Place serving plate on top of pan and flip it over.
——
I actually left out the brown sugar syrup on the top and it was still delicious. I should have made the entire recipe since J devoured it! AND he even ate the rest for breakfast the next day.