When I wrote up the blog on Peach Cobbler I tried to link to the Country Vanilla Ice Cream recipe as a perfect "go with". One problem, it wasn't on the site. So I pulled out my original copy of the cookbook that became this site and typed it up.
Now you may be thinking, "Vanilla? how boring." But a good vanilla ice cream goes with so many things. Besides the cobbler, it is great with the "Perfectly Chocolate" Chocolate Cake, or drizzle some homemade Kahlua on top – oh heavenly! Plus you can always add in some pureed fruit, chocolate chips etc. to mix things up.
I am experimenting with lighter versions. The main problem with reducing the fat is the resulting ice cream is icier rather than creamier. If you have a creamy low fat version, please share!
The other thing I am playing with the summer is the churning method considering I have a very active little boy to entertain this summer and some of these are perfect for him to help with.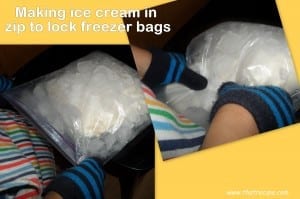 Freezer Bags: Put about a pint (2 cups) of mix in a quart size zip to lock freezer bag, seal it then put it inside another quart size bag and seal that (in case the first bag breaks). Put the quart size bags inside a gallon bag, then fill it with ice and rock salt and seal it. Then massage and shake the bag for about 15-20 minutes. Learn from my experience and do not overfill the quart bags, it made it much more difficult.
Coffee Cans – This one is PERFECT for J! I just need to find (or break down, and buy) a large coffee can. Basically all you need is one large coffee can and one small one, both cleaned out (duh!). Put the ice cream mix in the small one, tightly affix the lid (I'd use some strong tape) then put it in the larger can. Fill the large can with layers of ice and rock salt, then secure the lid on that. Then let the kids have at it. Shake it, roll it, etc. until the ice cream freezes.
Pot/Freezer: Put the mix in a metal bowl, fill a larger bowl or pail with ice and rock salt, churn with an electric mixer (or whip with a wire whisk if you are feeling extra energetic!)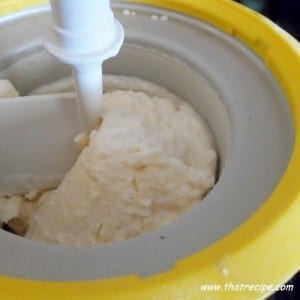 Electric/Manual Ice Cream Maker: I have a wonderful manual ice cream maker courtesy of my mother. She used it for years and as they downsized kitchens it moved to my house. It still works great so I can't really justify buying one that would go with my mixer even though I think it would be a fun gadget. Besides, J can easily help turn the crank every two minutes.
No matter which method you use,  ice cream will still be very soft when the churning is done and will need to harden in the freezer for at least an hour.
[Tweet "Rich and creamy Country Vanilla Ice Cream is so easy and fun to make at home #icecream #homemade"]
Country Vanilla Ice Cream
Print recipe
A simple recipe for basic Vanilla Ice Cream that you can change up by adding cocoa powder or pureed fruit before churning.
Ingredients
4 Large eggs
2 1/4 cups sugar
5 cups milk
4 cups heavy cream
4 1/2 teaspoons vanilla
1/2 teaspoon salt
Directions
Beat eggs until frothy. Gradually add sugar. Continue to beat until mixture is very stiff. Add remaining ingredients and mix thoroughly.

Freeze in ice cream maker per manufacturers directions. Harden in freezer at least one hour before serving.
—
Until next time, happy eating.
~Audrey