Continuing our Corn theme this week here's another tortilla recipe from The Well-Filled Tortilla Cookbook, Hominy Tortillas.
You can make basic corn tortillas using the recipe on the package of masa harina, but if you want to add a special texture to them, try adding some hominy. They taste like fresh from corn pulp tortillas. Use them with any filling you'd use for corn tortillas cheese, beans, tacos, carnitas, carne asade, etc. Or, be like my husband and sneak them off the plate while I am still cooking them.
I am not going to lie, this is time-consuming. It isn't hard, but depending on your equipment you could be cooking one at a time for a minute and a half or more each. But, I defy you to find these in your supermarket. Maybe a specialty Tortillaria if you are lucky.
While the finished product may not be available in your supermarket, you should be able to find the ingredients in the Mexican food aisle of any well stocked supermarket. As for equipment, you can roll them out with a rolling pin if you don't have a tortilla press. I have a simple inexpensive one, because I don't use it all that often. If you are going to make them often, I'd recommend buying a nicer one out of cast iron.
Two other equipment recommendations are a cast iron griddle or skillet and a bowl of water. As I said about the Fried Polenta, corn just tastes better when it is cooked on nice hot cast iron. Maybe I am the only one that thinks so. Plus, mine stuck hopelessly to both the stainless steel pan and the non-stick griddle even though both were well oiled, but were just fine on the cast iron. The bowl of water is for wetting your hand when transferring the tortillas to the griddle or for repairing little tears on the griddle by pressing lightly with a wet finger so they don't stick.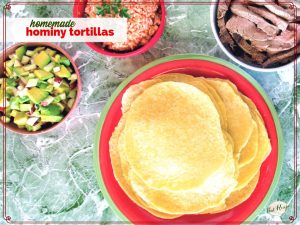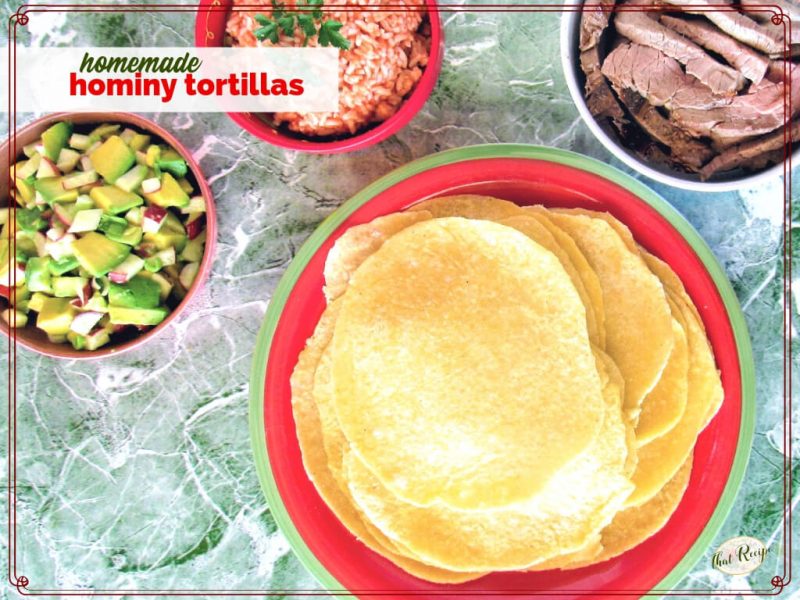 Hominy Tortillas
Hominy Tortillas taste like they are made from freshly ground corn. Perfect crunchy pulpy texture for your favorite Mexican recipes.
Ingredients
1 1/2

cup

canned hominy

most of a 29-ounce can (drained)

1 1/2

cup

masa harina

1/4

teaspoon

salt

1

cup

hot top water

non stick spray
Instructions
Puree the hominy in a blender or food processor. Put in large bowl with the remaining ingredients and mix until the dough forms a soft ball. Divide into 16 balls.

Heat a cast iron griddle or skillet over medium-high heat.

Spray two pieces of plastic wrap with non-stick spray.

Put dough balls one at a time between two pieces of plastic wrap and either roll with rolling pin or press with tortilla press into a 6- to 7- inch circle approximately 1/16- to 1/8- inch thick. Peel off plastic and transfer to griddle.

Cook for 30 seconds then flip and cook for another 30 seconds. Then flip back to the first side and cook for another 30 seconds until the tortilla puffs slightly.
Recipe Notes
You can make the dough ahead of time and then wrap tightly in plastic and put in the refrigerator (use within one day), or make the tortillas a day ahead of time and reheat before serving. I made half one day and the other half the next
Until next time, happy eating.
~Audrey