At Christmas time I let J look through my cookbooks and pick a cookie for us to bake. He fell in love with the Magic Window Cookies in the Betty Crocker's New Christmas Cookbook. Cookies with a candy center, who could blame him? All we had in the house were starlight mints, but we just dropped them in a baggie, whacked them with a hammer to break them up a bit and we were good to go.

You can use any outer shape and any inner shape to specialize them for any holiday:
hearts for Valentine's day
stars for Christmas or 4th of July
ovals with a few pieces of different color candies for Easter eggs
circles for Olympic rings
any other shape for "just because they are fun to make and eat"
He insisted that we use a circle outer cookie and star inner shape because that was what was in the picture. And, of course, he wanted to use the largest biscuit cutter I have. The proportions were a bit off, but he was happy. Ideally you want about a 3″ outer shape and a 1 – 1 1/2″" inside. If you don't have any small cookie cutters you can just cut them out with a sharp knife – this would be an adult or at least a big kid job.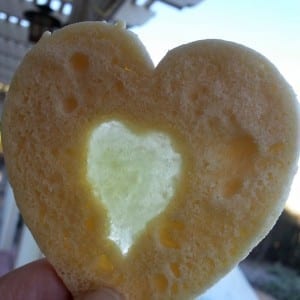 When I remade them for Valentine's Day we had actual "ring-shaped candies" leftover from his Christmas stocking and they are thin enough to melt before the cookies overcook so you don't need to break them. But, if they are already broken, that is fine too.
One word of caution: LINE THE COOKIE SHEETS! I guess that is 4 words. But, this is not an option for these cookies. When you remove the cookies from the oven the candy will still be liquid but it will harden quickly. You will lose all of the candy if you remove the candy before it hardens, but once it hardens you will need an ice pick or a long hot soak to get it off. I lost a whole dozen! Aluminum foil or parchment paper will peel off the back and you will be fine
Stained Glass Window Cookies
Print recipe
Sugar Cookies with the middles replaced with melted hard candies make cute Stained Glass Window Cookies. Use hearts for Valentine's Day, egg shapes for Easter, stars for Christmas, etc.
Ingredients
1 cup sugar
3/4 cups shortening (or half shortening and half butter/margarine)
1 teaspoon vanilla extract (or 1/2 teaspoon lemon extract)
2 eggs
2 1/2 cups all purpose flour
1 teaspoon baking powder
1 teaspoon salt
40-50 hard ring shaped candies (or any hard candy, break bigger, thicker candies if using)
Note
Learn from my experience: be sure to line your cookie sheets for these. I lost a whole batch because I forgot and the candies could not be removed from the sheet once they rehardened.
The time to make these does not include the 1 hour or more of chilling time.
Directions
In a large bowl mix sugar and shortening in a large bowl until creamy. Add vanilla and eggs.
Stir in flour, baking powder and salt until combined and a soft dough is formed. Cover and refrigerate at least one hour.
Preheat oven to 375 degrees F. Line cookie sheets with aluminum foil or parchment paper. THIS IS NOT OPTIONAL! The candy will stick to your pans once it melts and re-hardens and will not come off without a lot of soaking.
Roll dough to 1/8" thickness and cut out outer shapes. Move to cookie sheets then cut out inner shapes with small cookie cutters or freehand with a knife. I use approximately 3" circles or hearts for the outer cookie and 1" cutters for the inside shape.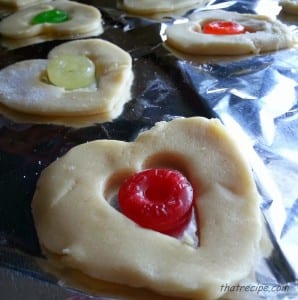 Put a ring shaped candy in the hole of each cookie. Bake for 7-8 minutes, watching carefully. As soon as the candy is melted and the cookies just start to turn tan remove from oven to avoid scorching. If the candy has not completely filled the hole immediately spread with a knife.
Slide foil or parchment paper off of cookie sheet and on to a cooling rack and allow cookies to cool completely. Remove cookies from foil/parchment, they might stick a little at first so you may need to peel the foil/parchment from the back to be sure to remove it all.
Until next time, happy eating.
~Audrey