I have been so busy lately that the blog ended up getting the short-shrift. Which is a shame since I have joined a group of my fellow SITS-ters to make an effort to comment on 75 blogs this week. If you are coming from there – Howdy! I promise I will be checking out your blog in the next few days. If you are a regular visitor to this site, check out their links in the comments sections of the last few blogs. These ladies are giving me some fabulous ideas that you might just see on here in the next few months.
As far as what is going on in my kitchen, I have been busy but most of what I have made isn't a new recipe so not much blog material there. But there were two that I have made slightly differently than in the past: Candy Cane Hearts and Pannetone Bread Pudding.
The only problem with the candy cane hearts is I forgot to pick up a few extra boxes of candy canes when they went on clearance December 26th. So I was only able to make three this year. His teacher and aides were the lucky recipients:
Do I need to tell you how to make them? I didn't think so. Normally I use dark chocolate but, I must admit, the white chocolate is prettier. You can also use other colors of candy melts if you desire. Instead of the sprinkles you could drizzle a contrasting chocolate over them. You could also add a lollipop stick between the two candy canes at the bottom before pouring on the chocolate if you wan them on a stick.
I have made Bread Pudding numerous times, using all sorts of leftover bread, cakes and candies. This time I was inspired by Nadia G. of Bitchin Kitchen to make it with Panettone, an Italian holiday bread loaded with raisins and candied lemon rinds. Luckily, I mentioned it to a friend that works at a grocery store and she grabbed me a loaf off the post-Christmas clearance rack for me. I just wish I had mentioned the candy canes too.
I didn't follow Nadia G's recipe but used the one Ma'am got from the New Orleans School of Cooking instead. I used the Panettone for the bread, minus a few slices I made into French Toast (amazing!).
I didn't add any other candy, fruit or nuts or even anything chocolate. Which in and of itself is a radical change from how I normally make it. As an added bonus instead of the vanilla in the pudding and fruit juice in the sauce I substituted some homemade Limoncello. The little bits I sampled were pretty awesome. I made four mini-loaves and gave them all away for Valentine's gifts. I hope the recipients enjoy them.
Bread Pudding
Print recipe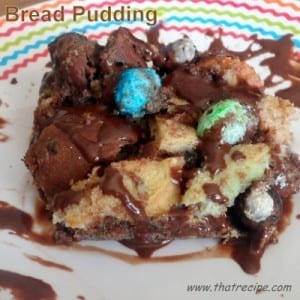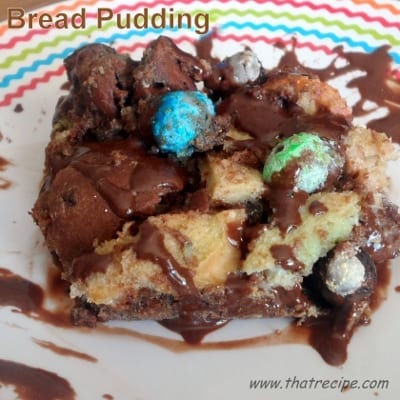 Use leftover bread or cake and other goodies to make Bread Pudding. Great use for leftover candy from Halloween, Christmas, Valentines Day or Easter.
Ingredients
Pudding
6-8 cups any type of stale bread
4 cups milk (or 2 cups milk and 2 cups heavy cream)
1-2 cup sugar (depends on the sweetness of the additional ingredients)
3 eggs plus on white (save the yolk for the sauce)
2 tablespoons real vanilla extract
3-4 cups extra ingredients (see Note)
1 teaspoon cinnamon
1/2 teaspoon nutmeg
Sauce
1/2 cup butter
1 1/2 cup powdered sugar
1 egg yolk
1/2 cup brandy, other liqueur or fruit juice
Note
Along with the bread you will want to add 3-4 cups of any combination of such item as raisins, shredded coconut, coarsely chopped nuts, chocolate chips, chocolate candy bars chopped into small pieces.  Use less sugar when adding sweeter ingredients, such as candy.
Directions
Preheat over to 350°.

Method 1 (more pudding like): Combine bread and milk. Let stand until bread is soft. Add remaining ingredients and mix thoroughly..

Method 2 (more cake like): Combine milk, sugar, egg and vanilla. Add remaining ingredients and stir lightly until just combined. Let rest a few minutes until bread absorbs the liquid.
Pour into buttered baking dish, either 9 x 9 or 9 x 13 inches, depending upon the amount of mixture. Cook 45 minutes to 1 hour, until top is golden brown and knife inserted into the middle comes out clean. Serve warm. The sauce below is optional.
Cream butter and sugar over medium heat until all butter is absorbed. Remove from heat and blend in egg yolk. Pour in liquid gradually, stirring constantly. Sauce will thicken as it cools. Serve warm over pudding.
For more fun ideas and recipes check out the Fabulously Frugal Thursday Linky Party.
Until next time, happy eating!
~Audrey