These Cherry Blueberry Cookie Cups are a fun treat for those summer patriotic holidays.
Do you like cookies? I LOVE cookies! I like to read about them, bake them and, of course, eat them! So you can imagine my giddiness when I found the Fill the Cookie Jar group. What is that you ask? A group of bloggers that dedicate one post a month to a cookie recipe based on a monthly theme. And then we all link them together. This month the theme is "Patriotic Cookies".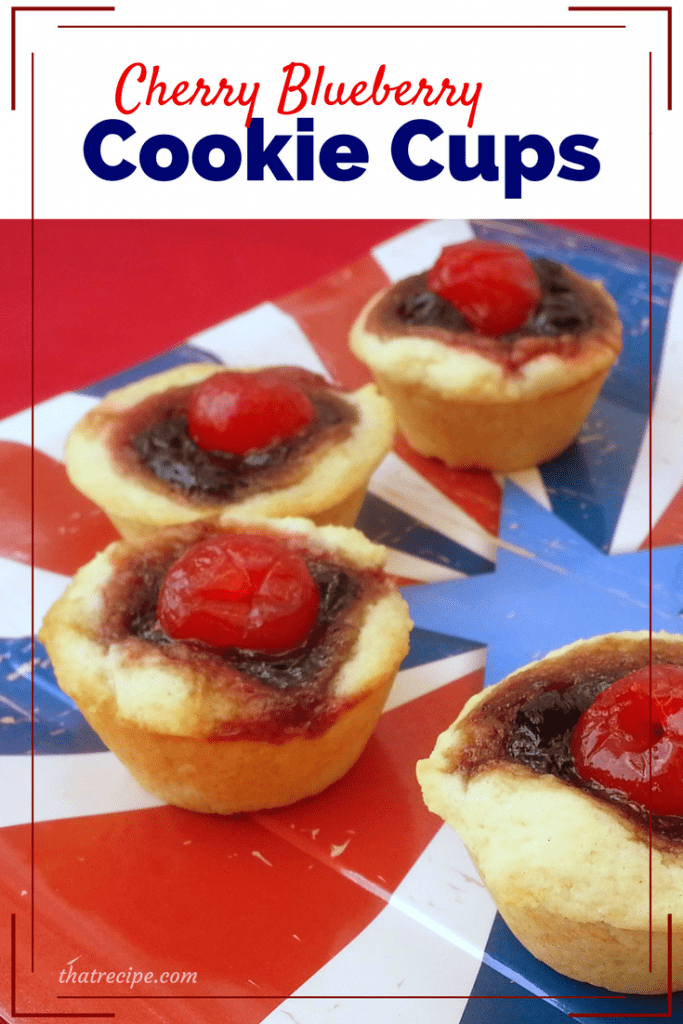 You are probably thinking "It is July 3rd! Isn't that late for posting an Independence Day cookie recipe?" Well, yeah, I guess it is. But, you can pin these for next year, if you can wait that long. Or you can just make them NOW because the combination of cherries and blueberries in a cream cheese cookie cup is AWESOME! Just look at these beauties:
Since today would have been my dad's birthday, it is appropriate that the basis of these cookies is one of his favorites, Cherry Nut Nuggets. I just used the dough for the cups, omitted the nuts and added some blueberry preserves.
And speaking of blueberry preserves, you can use any store bought version you like. Or if you want an absolutely incredible (and fast) recipe, check out Cupcake Rehab's Blueberry Basil Preserves. Soooo good.
Cherry Blueberry Cookie Cups
Print recipe
| | |
| --- | --- |
| Serves | 48 |
| Prep time | 40 minutes |
| Cook time | 15 minutes |
| Total time | 55 minutes |
| Meal type | Dessert |
| Occasion | Summer |
These red, white and blue Cherry Blueberry Cookie Cups are great for Memorial Day, Independence Day or any day you want a little fruity cookie.
Ingredients
1 cup shortening
3oz cream cheese
1 cup sugar
1 Large egg
1 teaspoon vanilla extract
2 1/2 cups all purpose flour
1/2 teaspoon salt
1/4 teaspoon baking soda
1 jar blueberry preserves
1 jar Maraschino cherries
Note
The prep time includes 30 minutes that the dough should chill in the fridge before assembling and baking.
Directions
Preheat oven to 350°.
Cream shortening and cheese together. Add sugar, egg and extract; mix thoroughly.
Sift dry ingredients together and stir into creamed mixture. Chill dough.
Divide dough into 48 pieces. Press each piece into a cup of a mini-muffin pan, press down in the middle and up on the sides to cover the entire cup with a well in the center.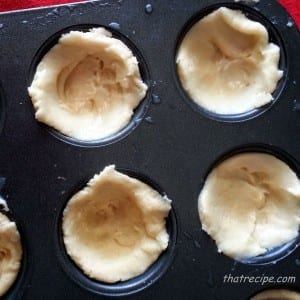 Drop a small teaspoon of blueberry jam into each cookie cup.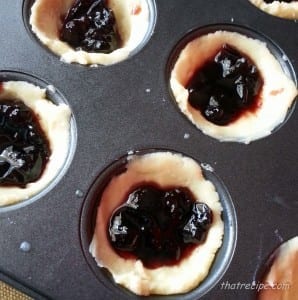 Top with a cherry. Bake for 10 to 15 minutes until cookie just starts to turn brown.
Until next time, happy eating.
~Audrey
This recipe is having a great time at these Linky Parties: