I am so excited to share this month's Fill the Cookie Jar recipe. Our theme this month is Halloween/ Pumpkin cookies. How cute are these Witches' Brooms Cookies?!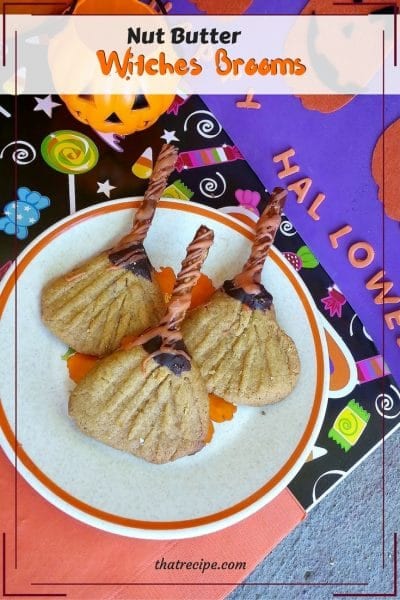 And the combination of peanut butter, pretzels and chocolate = YUM! At least in my book.
I went with my Three Ingredient Peanut Butter Cookie recipe because it is so peanut buttery. Just peanut butter, sugar and eggs – no other ingredients to dilute the peanut butter flavor. And as a bonus all you need are gluten free pretzels to make them safe for gluten restricted diets.
If you have peanut or egg allergies don't fret. Use the Egg Free Sugar Cookie recipe instead.
The only things you need to be careful about is not overbaking the cookies and letting them cool for a little bit before removing from the pan to the cooling racks. The first one crumbled when I moved it too soon. It still tasted good. 🙂
[Tweet "Easy and adorable Witches' Brooms Cookies are perfect for #Halloween."]
Peanut Butter Witches Brooms
Print recipe
Cute Halloween cookies made with flourless peanut butter cookies, pretzels and chocolate to look like a Witches Broom.
Ingredients
1 cup peanut butter
1 cup sugar
1 egg
24 pretzel rods (gluten free if desired)
1/4 cup chocolate chips
1/4 cup peanut butter chips (butterscotch or white chocolate or orange candy melts can be used)
orange food coloring
Directions
Preheat oven to 375 degrees.
Mix peanut butter, sugar and egg together until smooth. Divide into 24 balls.
Stick a pretzel rod into each ball. Place pretzel flat on cookie sheet and shape the cookie dough into a triangle. The pretzel should be at least half way to the bottom of the broom.
Use a fork to make broom bristles.
Bake at 375 degrees until done, about 5-7 minutes. Let cool on cookie sheet for 2-3 minutes before moving to cooling racks to prevent cookie falling apart.
Melt chocolate chips in microwave (approximately 30-45 seconds). Smear a bit of chocolate where the cookie and pretzel meet.
Melt peanut butter chips in microwave (approximately 30-45 seconds) add a few drops of orange food coloring. Drizzle on the pretzel for decoration.
Be sure to check out the other cookies created by the Fill the Cookie Jar bloggers.
Until next time, happy eating.
~Audrey