I love cookie dough that can be made into different cookies, especially this time of year. You just make up a double batch of the dough, or even triple it, and then add a little of this and a little of that and voila! Different cookies.
This Chocolate Cream Cheese dough is delicious and malleable making it great for rolling and shaping. Oh, and it is delicious too.
This cookie dough saga started the night before school was out for Thanksgiving. J and I wanted to make cookies for his teacher and aide, and he wanted rolled cut out cookies. I wanted something a little different. My Betty Crocker New Christmas Cookbook
came to the rescue.
I had seen tie dye cookies on Pinterest so I thought I'd give it a shot. I used half of the Chocolate Cream Cheese Dough and half Sugar Cookies that I had tinted three different colors. I froze the other halves of the dough for another time.
The great thing about these rolled cookies is after they bake they are done. No decorating needed.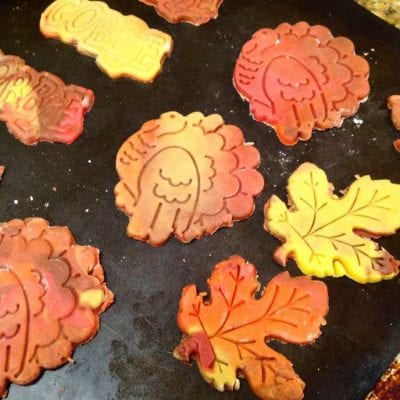 Last night I made two more versions with the Chocolate Cream Cheese Dough: simple rolled cookies with chocolate and crushed candy canes and Chocolate Mint Filled Trees.
The rolled cookies are pretty self explanatory, I did a few with the new star cookie cutter I picked up and a few circles. You can either put melted chocolate on top and add crushed candy canes (or sprinkles or colored sugar) or just dip the edges in the chocolate and roll in the candy.
The Chocolate Mint Filled Trees were a bit more complicated, but still simple. Roll out half a recipe of dough into a 12″ x 12″ square. Cut it into 4″ squares, then cut the squares on the diagonal.
Put a mint on each triangle and fold over each side in to the middle, shape into a tree and bake.
Bake, then drizzle with melted chocolate.
We have plenty of these for now, but I am sure I will be mixing up more of the dough for neighbors and friends by the end of the month.
Chocolate Cream Cheese Cookies
Print recipe
Simple cookie dough with chocolate and cream cheese that can be rolled or shaped to make cookies like Mint Chocolate Filled, Peppermint Topped or Tie Dye.
Ingredients
1 cup sugar
1/2 cup butter
1 1/2 teaspoon vanilla extract
1 egg
3oz cream cheese (softened)
3oz bittersweet or semisweet chocolate (melted and cooled)
2 1/2 cups all purpose flour
1/2 teaspoon baking powder
1/2 teaspoon salt
Optional
6oz vanilla or chocolate candy coating
3/4 cups crushed peppermint candy, chopped nuts, candy sprinkles
36 rectangular chocolate mint candies (Andes for example)
Directions
Heat oven to 375 degrees.
Combine sugar, butter, vanilla extract, egg, cream cheese and chocolate in a large bowl until smooth.
In a medium bowl whisk flour, baking powder and salt. Add to wet ingredients and mix until a smooth dough is combined.
For Tie Dyed Rolled Cookies: Divide dough, roll into a snake and combine with a similar amount of tinted sugar cookie dough. Twist and flatten a few times (not too many or your dough will completely mix) Roll dough out on a floured board to 1/8 inch thick. Cut with cutters to desired shape. Repeat with remaining dough. Place 1 inch apart on a cookie sheet and bake for 8-10 minutes.
For simple Chocolate Mint (or Sprinkles): Roll dough to 1/8 inch and cut with cutters as above, or roll into a 2-3 inch cylinder, slice 1/8 inch circles. Repeat with remaining dough. Place 1 inch apart on a cookie sheet and bake for 8-10 minutes. Let cool, top with melted chocolate or vanilla coating and top with crushed peppermint candy or sprinkles. Or you can roll the edges in the coating and candy.
For Chocolate Mint Trees: Roll half of the dough into a 12 inch by 12 inch square. Cut into 4 inch squares, then cut each square on the diagonal to make 18 triangles. Place a rectangular chocolate mint in the middle of each triangle. Fold corners into the middle and press along the seam. Shape the bottom points to make the trunk. Repeat with remaining dough. Place 1 inch apart on a cookie sheet and bake for 8-10 minutes. Let cool and drizzle with chocolate or vanilla coating.
Until next time, happy eating.
~Audrey