It's one of my favorite days of the month – Fill the Cookie Jar posting day. Yippee! The first Thursday of the month a group of bloggers each make a cookie based on a monthly theme and post about it. This month we have Valentine's Day cookies.
Be sure to scroll to the bottom to see the yumminess the other bloggers came up with.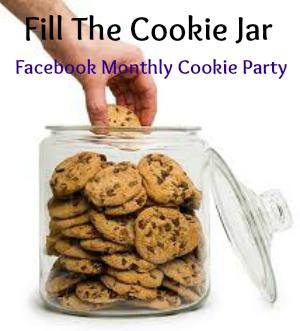 After a little comedy of errors I came up with these tasty little Chocolate Strawberry Bites which are sort of an inside out chocolate dipped strawberry. And they are so delicious, none of my taste testers suspected they were lower in fat and sugar than traditional thumbprint cookies.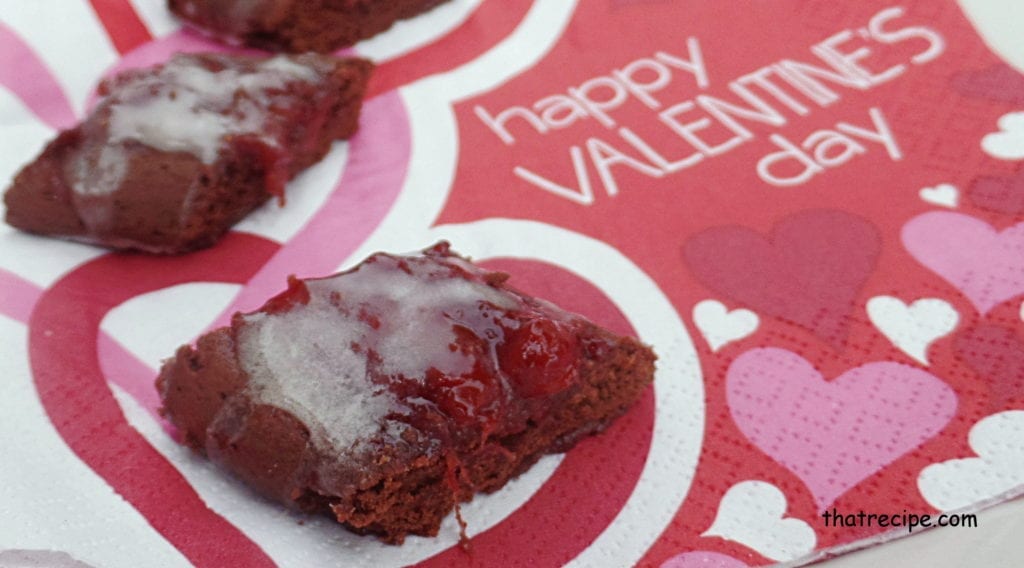 These cookies were inspired by a recipe in Cooking Light magazine which were originally a vanilla cookie with raspberry preserves and a lemon drizzle – but the name made me want to gag: strippers? uh, no thanks.
Originally, I intended to make a vanilla cookie tinted a little pink with some of the strawberry jam I was making then drizzled them with dark chocolate. But I made the colossal mistake of using coconut sugar in the cookie dough and jam which turned both light brown.
The taste was not effected one bit, but the look was not what I was going for. So, I just flip flopped things and they became a chocolate cookie with vanilla drizzle. Which I think was easier and tastier in the long run.
I made a simple strawberry jam/preserves to reduce the sugar and because I had some strawberries that I needed to use up soon. Feel free to skip that step and use a prepared jam of your choice.
Instead of rolling out individual cookies and make an indentation in each one for the jam like most jam filled cookies, you roll these into two long snakes, make a trough for the jam then slice on the diagonal immediately after baking.
Perfect bite sized treats!
Chocolate Strawberry Bites
Print recipe
Chocolate Strawberry Bites are a simpler and healthier thumbprint cookie. Low fat cookie, reduced sugar cookie.
Ingredients
jam
1/4 cup granulated sugar
1 cup fresh strawberries (sliced)
cookie
1/3 cup granulated sugar
5 tablespoons butter
1 1/2 teaspoon vanilla extract
1 Large egg white
2/3 cups all purpose flour
1/3 cup cocoa powder
2 tablespoons cornstarch
1/4 teaspoon baking powder
1/4 teaspoon salt
icing
1/2 cup powdered sugar
2 teaspoons milk
1/4 teaspoon vanilla extract
Directions
Preheat oven to 375°. Line cookie sheet with parchment paper.
In a saucepan, combine strawberries and 1/4 cup sugar mashing strawberries to release juices. Let sit for about 5 minutes. Cook on medium heat, stirring occasionally and crushing strawberries until thick and jam like. Remove from heat to cool.
In a medium bowl, beat granulated sugar and butter with a mixer at medium speed until well-blended, 3-5 minutes. Add 1 1/2 teaspoons vanilla and egg white, beat well for 1 minute.
In another bowl, combine flour, cocoa powder, cornstarch, baking powder, and salt, stirring well with a whisk. Add flour mixture to sugar mixture, stirring until well-blended.
Turn dough out onto a lightly floured surface. Divide dough in half. Roll each portion into a 12-inch log. Place both logs 3 inches apart on a baking sheet . With the end of a wooden spoon (or finger) form a trough down the length of each log.

Spoon strawberries into the troughs of each log.
Bake at 375° for 20 minutes. Remove logs to a cutting board.
Combine powdered sugar, milk and extract to form a thin glaze. Drizzle sugar mixture over warm logs. Immediately cut each log diagonally into 12 slices. Do not separate slices. Let cool for 10 minutes, separate slices and cool completely.
(Do not separate slices.) Cool 10 minutes; separate slices. Transfer slices to wire racks. Cool completely.
Until next time, happy eating.
~Audrey