It's time to Fill the Cookie Jar! Every first Thursday of the month I join with some of my favorite bloggers to make a theme based cookie and post about it. We are in Fall frame of mind this month. Be sure to scroll to the bottom to read what they have made.
[Tweet "Fill the Cookie Jar with fabulous Fall Cookies. #fillthecookiejar #cookies #recipes"]
I went with a breakfast cookie this month because I am still getting into the Back to School routine. These Apple Raisin Breakfast Cookies are great if we get up late, or I can pack one up as a snack.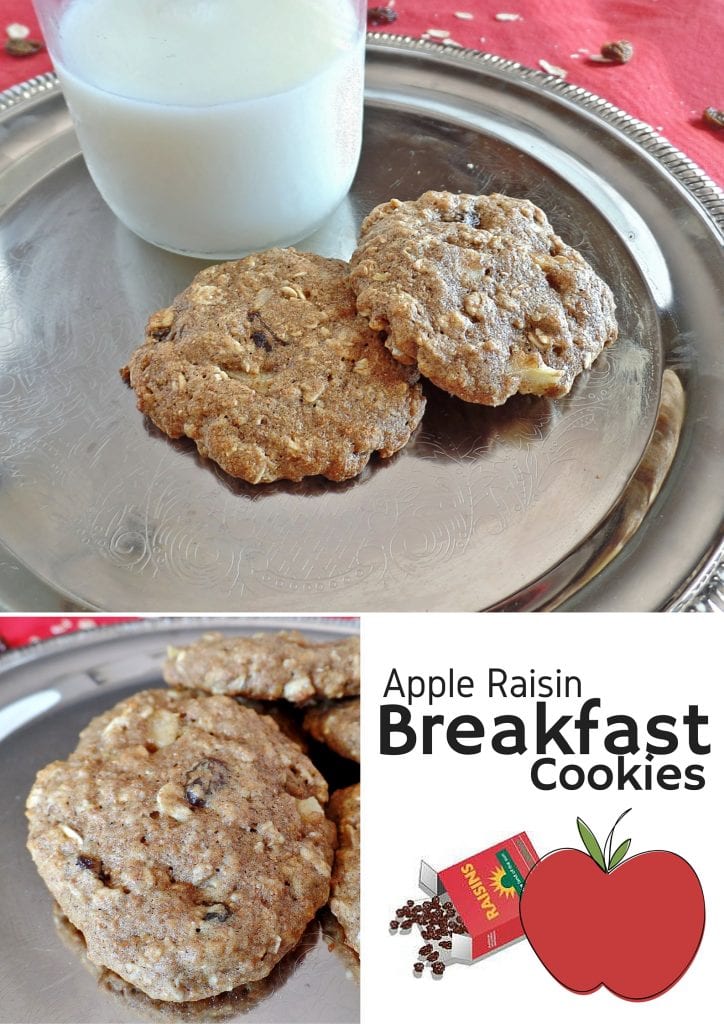 I modified this from a recipe in Sweet Mercy's Top 5 Breakfast Cookies. I paid $1 for this when I first got my Kindle and I think I have made all 5 cookies now.
There are plenty of ways to customize these. Pick your favorite kind of nuts, or skip them like I did. Swap cranberries or other dried fruit for the raisins. Add honey instead of the maple sugar. Go with margarine and egg substitute to make them vegetarian.
Then grab your favorite kind of milk (or other protein drink) and enjoy a few of these delicious cookies knowing that Fall will soon be here and the 100+ degree weather will be over for awhile. At least I hope it will.
[Tweet "These Apple Raisin Breakfast Cookies will help get your morning off to a sweet start. #healthy #breakfast"]
Apple Raisin Breakfast Cookies
Print recipe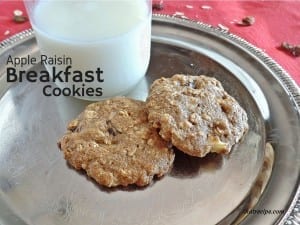 Apple Raisin Breakfast Cookies - A healthy cookie you can enjoy for breakfast or school time snack. Oatmeal, raisins, apples, and nuts will keep you going.
Ingredients
1/4 cup unsalted butter (room temperature)
1/2 cup dark brown sugar
1/2 cup applesauce
2 Large eggs
1/4 cup pure maple syrup (or honey)
1 1/2 cup whole wheat flour
1/2 teaspoon salt
1/2 teaspoon cinnamon
1 teaspoon baking soda
1 1/2 cup quick cook oats (or old fashioned if you like them a bit chewier)
1/2 cup apple (peeled and finely chopped)
1/2 cup raisins
1/2 cup walnuts
Directions
Preheat oven to 350 degrees Fahrenheit.
In a large bowl, cream butter and brown sugar together until light and fluffy. Add eggs, applesauce and syrup/honey and mix until combined.
In a medium bowl combine flour, salt, cinnamon, soda, and oatmeal with a whisk. Slowly add to wet ingredients until blended (do not over mix!). Gently stir in fruit and nuts.
Using a large cookie scoop, or two tablespoons, drop cookie dough onto baking sheet and press until about a 1/2 inch thick.
Bake 10-12 minutes until just firm.
Until next time, happy eating.
~Audrey