Our Fill the Cookie Jar post was postponed a week to allow more bloggers time to participate. Our June theme is Father's Day so I am serving up these Mocha Butter Cookies for those coffee/chocolate loving dads.
Fill the Cookie Jar is the creation of Cynthia over at Feeding Big. Each month a group of bloggers make a cookie around a common theme and then share with all of you. Kind of like a virtual cookie exchange. Be sure to scroll below the recipe to see what everyone else brought to the party this month.
My dad was a big coffee drinker, but I don't remember him ever having mocha sweets. My husband loves mocha ice cream, cake, cookies, etc. but doesn't drink coffee. I think both would enjoy this cookie.
Like most of my recipes this one is easy to adapt:
If you aren't a fan of coffee, scale back on the espresso powder and add just a pinch to enhance the chocolate.
Add a bit of cayenne pepper for a nice spicy kick.
Roll the dough and use cookie cutters for a twist on traditional sugar cookies.
Frost them, leave them plain, or make cookie sandwiches with them.
You get the idea.
[Tweet "Mocha Butter Cookies – rich and crisp chocolate and coffee flavored cookies. #cookies #mocha"]
Mocha Butter Cookies
Print recipe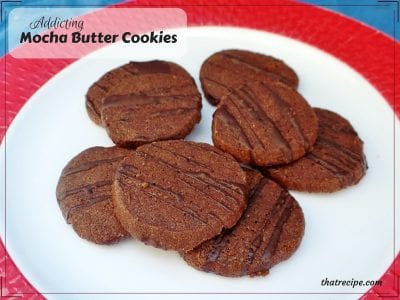 Mocha Butter Cookies - rich and crisp chocolate and coffee flavored cookies.
Ingredients
2 1/2 cups butter (divided use)
1/2 cup cocoa powder
2 teaspoons instant espresso powder
1 cup sugar
1 Large egg
1 tablespoon vanilla extract
2 1/4 cups all purpose flour
1/4 cup dark chocolate
1 teaspoon coconut oil
Note
Preparation time includes 1 hour chilling time.
Variations:
For chocolate flavor only add 1 teaspoon of espresso powder
For a Mexican version add 1 teaspoon cinnamon and 1/8 teaspoon cayenne pepper
roll dough and cut like sugar cookies instead of cutting into disks
Directions
Melt 1/2 cup butter in a small saucepan on stove or microwave. Add cocoa powder and espresso powder to form a paste. Set aside.
Beat remaining butter and sugar for one minute until light and fluffy. Beat in cooled cocoa mixture until combined.
Add egg and vanilla and beat for another 30 seconds.
Add flour in 3 equal parts, incorporating each before adding the next. Roll the dough into a 2 inch diameter cylinder, wrap in parchment paper and chill for at least one hour.
When ready to bake, preheat oven to 375 degrees.
Slice cookie dough in 1/4 inch thick slices. Place circles on cookie sheet about an inch apart.
Bake until cookies are set about 10-12 minutes. Let sit on baking sheet for 3 minutes then move to a cooling rack to cool completely.
Melt chocolate and coconut oil and drizzle over the cookies. Let harden before serving.

Until next time, happy eating.
~Audrey
Save