Typical October weather (95 one day, 70 and rainy a few days later) coupled with interrupted sleep has led to a bunch of sickies in my house. So, it is comfort food time!
For me it is Grandma Ruth's Sick Soup (potato and leek) and hot Dr. Pepper with lemon. I know that last one sounds bizarre, but that's what Ma'am used to make me when I was sick as a kid. She'd pour a can of Dr. Pepper into a pot on the stove with a few slices of lemon and bring it to a boil. The warm syrupy liquid always soothed my throat and the shot of citrusy vitamin C was a bonus.
If I didn't have to still be a functional mother despite being sick, I would consider Sopa de Pollo Borracho and a Hot Buttered Rum or three.
Potato and Leek Soup (Vichyssoise)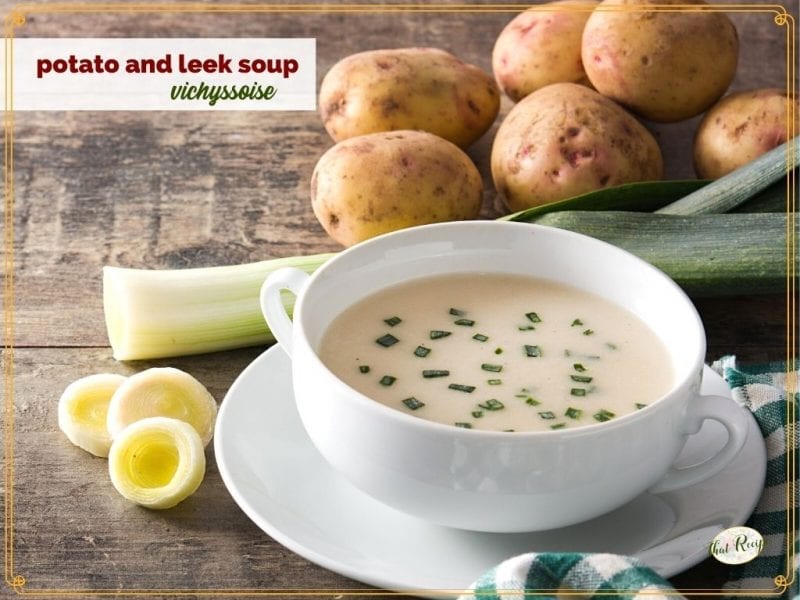 Humble yet hearty Vichyssoise is simple potato and leek soup that is delicious served either hot or cold.
Ingredients
4

cups

russet potatoes

peeled and cut in chunks

1

cup

leeks, chopped and separated white from green

or use chopped white or yellow onion

1

quart

chicken or vegetable stock

enough to completely cover the potatoes with extra liquid on top of them

½

cup

celery

chopped

¼

cup

parsley

chopped

salt and pepper to taste

1

cup

heavy cream or milk

optional
Instructions
Add potatoes, onions (leeks), celery and parsley to a large pot. Add stock until vegetables are covered with liquid plus a bit more on top.

Cover and bring to a boil. Reduce heat to a simmer. Cook until potatoes are soft enough to begin to "mush".

Mash with potato masher for chunkier soup. For more pureed soup use an immersion blender or pour all ingredients into a blender or food processor and blend until smooth.

Thin with cream, if desired. Add salt and pepper to taste. Garnish with chopped leek greens (or parsley) if desired.
Until next time, happy eating.
~Audrey