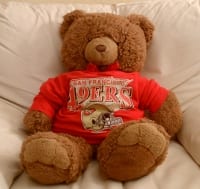 And they'll be saying, "Who's got it better than us? NOBODY!"
I have waited 18 years for this, as have the rest of the 49er Faithful. Oh, and I suppose Ravens fans are pretty excited too. But, for the rest of the world that doesn't care who wins or loses, this coming Sunday is about the food!
If you want the perfect outline for throwing your own Super Bowl party, check out Ma'am's guest blog on the subject. Even if you aren't thinking about hosting a party, it is still a fun read. There are links to some recipes at the bottom.
One of Ma'am's suggestions is to theme the food around the participating teams and the host city. For those that do not live and breath footbal like I do, this year it is San Francisco, Baltimore and New Orleans.
San Francisco: SOURDOUGH!!! To me, it is manna from heaven. Well, Jesus thought so too, so I guess I am in good company (Matthew 13:33: He told them another parable: The kingdom of heaven is like leaven which a woman took and covered over in three measures of meal or flour till all of it was leavened.) Back in the late 1980's and early 1990's when the Niners were winning their 5 Super Bowl titles, real San Francisco Style Sourdough was hard to find outside of the Bay Area and I was known to pack a few loaves in my suitcase on my way back to college. Now, most grocery stores in-store bakeries have (Vons is the best!).
The most basic thing you can do with it for a party is to get a boule (round) and cut out the center without cutting all the way through the bottom. Fill it with Chasen's Chili, Gumbo,  Shrimp Creole, Jambalaya or a dip like Hot Artichoke Dip.
Baltimore: I had no clue what would be a Maryland/Baltimore traditional dish. But, my mother came to my rescue and did some research for me. America's Test Kitchen has a few recipes but you have to subscribe to the site to get them - irritating! But at least it will give you a few ideas like crab cakes and Baltimore Pit Beef.  She also found this list on About.com Local.
New Orleans: Too bad we don't have any recipes from New Orleans on this site. If only we knew someone that lived and cooked down there that would share his recipes with us. What to do ? What to do? If you didn't sense the sarcasm or aren't in on the joke, baby brother, Chef Michael, lived and worked in New Orleans until Katrina. Besides the recipes already listed above, we have:
Not all the recipes are his. Some are Ma'am's from when they went to New Orleans on vacation when we were kids and she took a cooking class. Which sounds strangely like the trip my buddy Carol, The Pastry Chef, took last week. So, in case you need even more NOLA recipes here are: Bananas Foster from Brennan's, Shrimp Remoulade, Seafood Gumbo and Chicken Creole from the New Orleans Cooking Experience.
If you have any Baltimore-ish recipes to share, please do.
Until next time, happy eating!
~Audrey
p.s. GO NINERS!