When I saw this recipe for Lighter Cinnamon Rolls from America's Test Kitchen I knew I would eventually have to try it. It comes from their Comfort Ford Makeovers cookbook, which is chock full of healthier versions of some of my favorite foods (Lemon Pound Cake, Chicken Parmesan, Chicken Fried Steak, etc. etc.)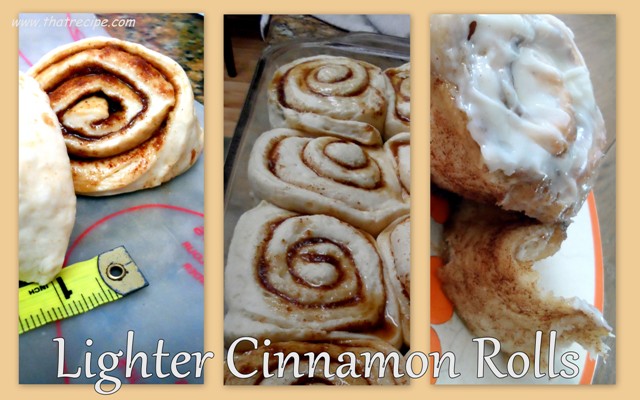 One of the things I like about their methods of slimming down recipes is they still use "real" ingredients – like butter and sugar – but use less of it, similar to Cooking Light Magazine (another of my favorites). No substituting fat for sugar like in fat free non dairy creamer, the calories work out to about the same as if you used half and half. If you need/want to avoid dairy or sugar or gluten or nuts, then you are still going to have to find your substitutes. But I think it is better to start with real ingredients and go from there. Just my opinion though.
I followed the recipe exactly. Ok, exactly except for the unsalted butter and salt. I used salted butter and omitted the salt. Same difference.
When I judge a healthier, reduced fat/calorie, gluten free, vegetarian, blah blah blah recipe I use a 5 point scale:
5 – The best I have ever had, I wouldn't know this is a "healthy" version if you didn't tell me(see Black Bean Coconut Brownies)
4 – Really good, just missing a little something to make it great.
3 – I know it is a "healthy" version, but it is good enough I don't mind eating it instead of the naughty version especially if I am in a slim down my tummy mode.
2 – Ugh! I will politely finish my serving and never make it again.
1 – BLECH! Do I even have to swallow?
I will never post a 1 or 2 recipe on this site. If I can't say anything nice, I choose not to say anything at all. Where do these Cinnamon Rolls fit on the scale? I have to give it a 4 1/2. The dough was light and fluffy and just slightly sweet. The cream cheese icing was a perfect compliment.
To me they could have used a little more filling. But that could be because my dough rose so much that the proportions were a bit off. When I baked them the middles actually popped up because they had no where else to go. I just tucked them back in when they came out of the oven. WHEN I make them again, no question about if I will make them again, I will put them in the oven sooner and not let them rise as much. The mere thought of warm from the oven cinnamon rolls was driving J and I crazy; having them ready sooner would be a good thing.
I am not going to retype the recipe here. Yes, you have to click on another link to get the actual recipe. I am feeling lazy this fine fall morning, plus Tracey over at Tracey's Culinary Adventure already retyped the whole thing, and I followed hers exactly. Besides, her pictures are "drool worthy"! Click on over, check it out, make them, then consider buying the book like I am about to do right now.
Until next time, happy eating.
~Audrey