Candy Cane Trees and Hearts are an easy treat to make for Christmas or even Valentines Day (provided you remember to pick up extra boxes of candy canes from the clearance aisle on December 26.)
Panettone Bread Pudding Recipe
Did you come here looking for a Panettone Bread Pudding recipe? This is not a case of bait and switch. At least not intentionally
This post has been updated to separate the candy cane hearts instructions and panettone bread pudding for SEO juice (a bloggy thing that makes posts easier to find).
Unfortunately there are hundreds of existing posts and shares on social media using this link and it's impossible to update them.
Sorry to make you click twice!

Click here the Bread Pudding Recipe
Candy Cane Treats
I saw the candy cane hearts on Pinterest years ago and always try to grab extra mini candy canes when they go on sale after the holidays so I can make them for my son and his teachers, grandmothers, etc. for Valentine's Day. It took me until this year to figure out to turn it around and use green to make a Christmas tree candy.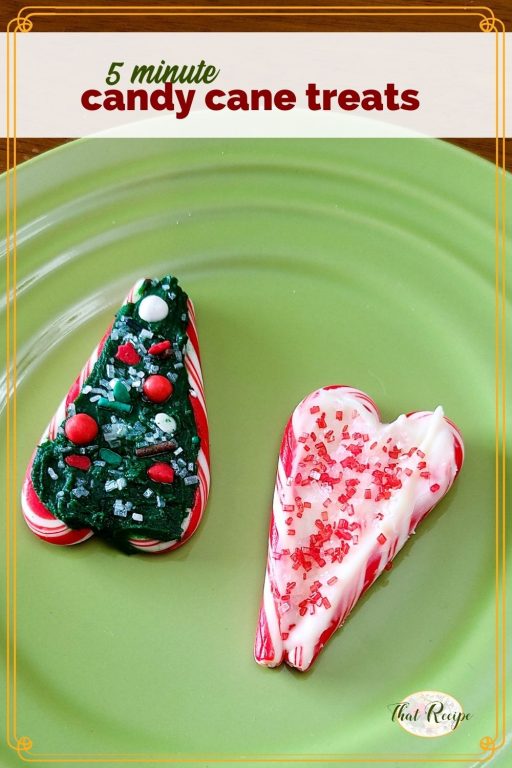 How to make candy cane treats
2 mini candy canes
white chocolate or candy melts, melted (green for trees)
green food coloring (optional for trees if you use white chocolate/melts)
coconut oil for melting if needed
sprinkles
lollipop stick (optional)
Place the candy canes together to form a heart on a sheet of waxed paper, foil or parchment paper. Add a lollipop stick between the bottom ends if desired.
Melt the candy melts in the microwave per package directions. If using white chocolate, microwave for 30 seconds, stir and continue microwaving at 10 second intervals, stirring in between until melted. Add a small amount of coconut oil if the mixture is too thick.
Pour melted chocolate in the middle. Quickly add sprinkles before the chocolate sets.
Let sit until hard. Speed it up by putting in the fridge for a bit.
Until next time, happy eating!
~Audrey