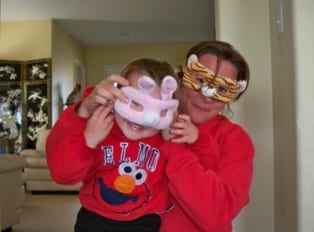 Nope, it isn't Easter season already - it is almost time to say goodbye to The Year of the Tiger and welcome The Year of the Rabbit. The Chinese New Year 4708 begins on February 3, 2011.
The Internet has a plethora of information about the traditions of this holiday (Chiff.com and China Page were two I liked) including crafts and lesson plans for children.
Like New Years celebrations in other parts of the world food plays an important part in Chinese New Years Celebrations.  Here's a list of symbolic foods I borrowed from Will and Guy's Clean Jokes site:
Bamboo shoots: Wealth.
Black moss seaweed: Wealth.
Chicken: Represents happiness and marriage.
Dried Bean Curd: Happiness.
Eggs: Fertility.
Egg Rolls: Wealth.
Fish served *whole : Prosperity
Chinese garlic chives: Everlasting, a long life.
Lychee nuts: Close family ties.
Noodles: Represent a long life.
Oranges: Wealth.
Peanuts: A long life.
Pomelo: Abundance, prosperity, having children. (Pomelo is a citrus fruit native to SE Asia.)
Seeds, e.g. lotus or watermelon seeds: Having a large number of children.
Tangerines: Good luck.
We will be having chow mein and dumplings New Year's Eve.  I have two chow mein recipes on the site. A traditional one that Ma'am learned to make at a Chinese cooking class she took in 1975 (more recipes coming from class coming soon). And my "throw together a bunch of leftovers" version I posted last week. For the dumplings, I followed the link listed in Sunday's Parade magazine.  I noticed that it was adapted from one by Ming Tsai, so I pulled out my copy of East Meets West and sure enough it is very similar to his Mom's recipe that is in the book. I'll use the one from the book since it uses homemade dumpling wrappers instead of store bought ones.
Now I am off to clean the house, a tradition I have picked up from years working with Boone, Bao and Thuc. Most of the year their desks were covered with stacks of paper 1-2 feet high, but before they left on New Year's Eve each year they were completely cleaned off.
Until next time, happy eating.
~Audrey