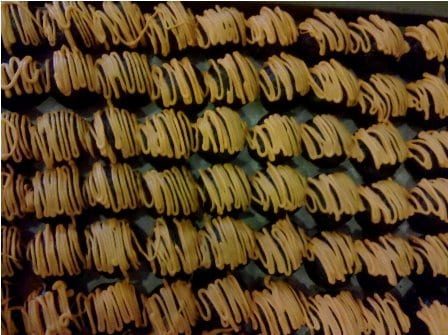 Recently, my friend, Lisa Cameron, mentioned on Facebook that she was making 150 Oreo Cookie Balls for her daughter's first brithday (Happy Birthday, Kenna!) and several mutual friends raved about them. My curiosity was peaked and I had to know what these treats were. Always quick to help me out, she sent the following recipe. A simple no bake cookie that can be creatively adapted to different themes just in time for the holidays- SCORE!   
----
Oreo Cookie Balls
Pack of oreos (generic works fine)
8 oz block of cream cheese
½ bag of white chocolate chips
Grind up cookies in food processor. Mix in block of cream cheese until a thick dough consistency. Roll into rounded teaspoon full balls, place on cookie sheet lined with parchment paper, chill. Melt white chocolate and put in a zip top bag, snip off a corner and drizzle on top of balls.  Serve chilled. Makes approximately 50 balls.
-------
First, the problem. Tempering the chocolate gave Lisa some challenges so she opted to go with candy melts instead. I did some research online for tempering chocolate and found Emeril Lagasse's instructions and one from a site called Cooking for Engineers  that gives a bit more scientific explanation of the process. I've used the microwave method on semi sweet chips before and not had a problem, but I think the candy melts are a great idea especially to get more creative with them.
Lisa and I began brainstorming different ideas for them and came up with:
using different colors for different holidays such as red and green for Christmas or pastels for Easter (shaped like eggs, of course) and pink and white for Valentine's Day (shaped like hearts, of course) - candy melts would probably be the way to go here.
make turkey heads/tails out of construction paper glue to toothpicks and insert on the balls
using different cookies such as Nutter Butters - might be cuter with the turkeys than the Oreos
putting a stick in the balls a la cake pops and dipping in chocolate then adding sprinkles, mini chips, mini M&M's, etc.
If you have any other creative ideas to do with these, please feel free to share!
Until next time, happy eating!
~Audrey