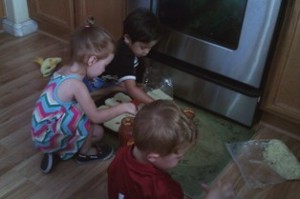 The wheel was invented over 5,500 years ago.  It has been working just fine since then. I see no reason to re-invent it.  Similarly, there are oodles of books and websites dedicated to the hows and whys of cooking with kids, so I don't see a big need to rewrite all of that. You probably wouldn't be reading this if you weren't already interested in the topic. Instead I'll just share a few of my experiences, some links to other sites I think are interesting, and of course, a few recipes.
MY EXPERIENCE:
I started cooking with kids when I worked Day Care at the YMCA of Uptown Whittier.  Sometimes we would make snack for everyone, but during Y-Basketball we would make goodies to have a bake sale during games to raise money for the day care program.  My favorite memory is of a young kindergartener named Daniel, who was so eager to help that he came running across the room after washing his hands, crawled under a table instead of going around it and proudly held up his hands showing me he had washed them and was ready to help.  He grudgingly went back and rewashed after I promised we would wait to start until he got back.
I also taught a home economics elective to some of the junior high students when I was a Physical Education Teacher at St. Bruno's School in Whittier.  It was one of the most popular classes, and I somehow ended up with quite a few of the "tough" boys because the administration figured I was used to dealing with them and if they really were interested in cooking they were less likely to act up.  The first day of class I had them all take this quiz to emphasize the point that you should always read the entire recipe before beginning - I caught all but two students.  The next day I heard from a number of brothers and sisters of students in the class who had been given the test at home (and failed).
I have just begin to learn the joys of cooking with toddlers and preschoolers.  My son has been "helping" me in the kitchen since he was less than a week old and I plopped him on the counter in his car seat to watch me make a chocolate mousse pie for Daddy.  He now LOVES to cook, to the point of being a bit of a bit annoying about it.  Last night, I was trying to quickly whip up some biscuits while he was playing at the dining room table. He ran into the kitchen indignantly, grabbed the bowl that I had just put the flour in, put it on the floor, sat down and demanded "COOK!". So, he got to add the baking powder and shortening then attempt to knead it together.
A few weeks ago, I helped Justin and a few of his friends make English Muffin Pizzas. A few pieces had no sauce and a cup of cheese, while others had plenty of sauce and a few strands of cheese.  Magically, once they went into the oven they all turned out perfectly (thanks to some quick fixing by the Moms when they were moving away from the oven for safety).  The kids had fun and were so proud of getting to help make their lunch.
Cooking with kids is great fun for you and them, no matter the age or the number of kids you work with.
OTHER SITES:
This is hardly an inclusive list, just a few sites I thought were interesting.
Cooking with Preschool Age Children - list of age appropriate tasks for 2 - 5 year olds.
Cooking with Your Kids Helps Develop Motor Skills - corelation between cooking activities and the associated motor skills practiced 
Age Appropriate Cooking Lessons - Full blown Lesson Plans for cooking with age groups from 3-6 year olds, 7-11 year olds, 12-15 year olds, and 16-18 year olds.  Can be used 1 on 1 or group settings. She encourages letting children younger than 3 help in the kitchen to the best of their ability and interests.
Cooking with Kids /Children's Recipes - includes a section of recipes for the Easy Bake Oven!
Family Fun Magazine Kids' Recipes - We got a free subscription to this somehow. We have made some of the recipes and I have torn out others to save for use when we are older.
RECIPES:
In the next blog I will finish this series with a review of Cookbooks for Kids through the ages (or at least the past 60 years).
Until then, happy eating,
~Audrey