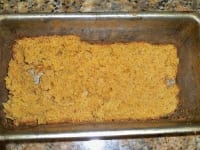 Well, Chaka, I hope my family feels for me after the cooking disasters I have whipped up in my kitchen lately just to have something to write about. Ok, I admit it, they just failed and I didn't try to fail to have something funny to say. I tried to get creative a few times and it didn't work and a few times I got distracted and things went awry. I hate to throw away food and even when something fails I try to save it or come up with another way to use it, like when my penuche failed and I used it as frosting for chocolate cookies. But most of these have been so bad they needed to be tossed.
Baking Mix: I found a recipe for Homemade Baking Mix (i.e. Bisquick) in Best Recipes from the Backs of Boxes, Bottles, Cans and Jars (10 cups flour, ⅓ cup baking powder, 2 cups shortening, 1 tablespoon salt - mix together and store in airtight container in fridge) to break out when I want to make pancakes or biscuits quickly. The last time I made only a half recipe. At least I intended to, but I think I ended up adding the full ⅓ cup of baking powder. Everything I tried to make with it tasted funny and seemed dry. So I tried to "save" it by adding more flour and shortening. After another failed pancake episode I stopped throwing good money after bad and just tossed it. It was so hard for me to just let go.
Grape Jelly: The Thompson and Red Table grapes  in my backyard are just getting ripe and I have a pretty good crop this year so I thought I'd try raisins with the Thompsons, but the others have seeds so I figured I'd make some jelly again. But I didn't want to do straight grapes I wanted to add something to it. Laura Groch, a food writer for The North County Times/Californian mentioned fig jelly with mustard she had in Italy in a recent post on Facebook. I thought I'd give it a try with a small batch. The addition of mustard seeds when boiling the grapes was not the problem. Getting distracted by a certain preschooler during the actual jelly making part was. I overshot the jelling point by a country mile. I should have just kept boiling it and made hard candy out of it, ha ha! Instead, I threw it out.
Juice Pulp Uses: I recently started juicing again, and as I have mentioned repeatedly I hate to see food go to waste, so I tried to come up with uses for the pulp. Mostly I got generic responses to my searches and requests - throw it in soups, bread, muffins, etc. I am still experimenting but I can tell you what didn't work.
Emeril's Cheesy Crackers - I was hoping to create a Vegetable Thins type cracker with a little cheesiness to it. Maybe I overworked the dough too much or there was too much moisture or I didn't roll the dough thin enough, but I ended up having to almost overcook them to get them crispy and they just didn't have that nice cracker texture I was hoping for. I ate some of them and tossed the rest.
Justin's Favorite Carrot Bread - This one I really did make knowing it was going to fail, and surprizingly it didn't fail too horribly. I followed the recipe EXACTLY except I traded ¾ cup of carrot/pineapple juice pulp for the cooked pureed carrots. As you can see from the picture at the top it was a bit dry and refused to come cleanly out of the pan. And it wasn't very carrot-y, but luckily I used good fresh spices so it wasn't bland, you just couldn't tell it was carrot like the original. Well, duh! I took out a lot of the flavor and moisture when I extracted the juice to drink. Next time I will increase the amount of pulp and see what happens. With a little schmear of cream cheese on top, J is still enjoying this for snack.
Hopefully, some of you can use my failures as a lesson for what not to try in order to save yourself a bit of angst. Next time, I will share some of my successes with the grapes, jam/jelly making, and uses for the juice pulp. I am still looking for suggestions on the latter, so let me know if you have any ideas or recipes.
Until next time, happy eating!
~Audrey