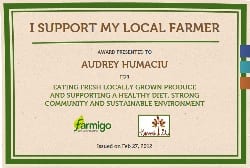 I have joined my local CSA. No, I am not referring to the Confederate States of America. Though, thanks to Great Great Grandfather Ruben Donnell's service in the 4th Battalion North Carolina Junior Reserve (he joined in 1864 at age 17), I could be a member of  the Daughters of the Confederacy if I had the inclination.
The CSA I am referring to is Community Supported Agriculture. The website www.localharvest.org describes:
Over the last 20 years, Community Supported Agriculture (CSA) has become a popular way for consumers to buy local, seasonal food directly from a farmer. Here are the basics: a farmer offers a certain number of "shares" to the public. Typically the share consists of a box of vegetables, but other farm products may be included. Interested consumers purchase a share (aka a "membership" or a "subscription") and in return receive a box (bag, basket) of seasonal produce each week throughout the farming season.
This creates a win-win-win for consumer, farmer and local economy. Because it is locally grown, the produce is fresher, handled less, shipped less, and in most cases is organically grown (could be all, I know my local one is). The farmer gets money up front and has a built in market for the produce. And the money stays locally boosting small businesses in your neighborhood.
I dragged my feet about trying it out for a few reasons:
I'd have to go pick up the box every week
I wouldn't have a choice as to what we'd get in each delivery
I enjoy gardening and will just grow my own produce
It will cost more than I usually spend on produce.
Our local CSA, Harvest2U,  recently started offering home delivery so that eliminated reason number 1. As far as number 2 goes, I have a recipe website for goodness sakes, time to get out of my comfort zone and start experimenting. Being honest with myself, I had to admit that as much as I enjoy gardening, this spring and summer are going to be monumentally busy for us, so the chances of me being able to maintain the plants well enough to get a decent harvest aren't that great. Plus, I wouldn't have the time, space or knowledge to grow the variety I could get with the CSA. Good bye, number 3.
Which leaves cost as the only remaining excuse. I ordered a Family Harvest with a biweekly delivery for $41 each delivery.  Other options include a weekly delivery, a smaller Couples Harvest and some Juice Harvests for those interested in juicing. I didn't weigh all of the produce, but for simple math I will estimate it weighed 10 pounds, which equates to $4.10 a pound. Much more than I normally pay per pound, but I don't normally buy organic or locally owned. Comparing apples to apples, or greens to greens to be more precise, when I was at the grocery store the other day I noticed that tubs of organic US grown (probably not locally) spinach or salad mix were $5.99 a pound.
What I got for my $41 was a filing box sized wax coated box left on my doorstep (I need to get an ice chest for when the weather warms up) loaded with:
Tatsoi
Spinach
Arugula
Radishes
Cilantro
Carrots
Collard greens
Avocado
Tangerines
Mustard greens
Sugar snap peas
Swiss chard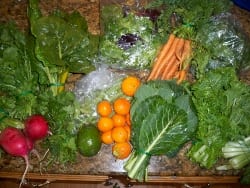 The produce was not just pulled from the ground, full of dirt and needing to be trimmed. Everything was washed and trimmed a bit. The carrots and the radishes still had the tops (yay!) so I could use those if I desired. The tangerines were a bit small, about 1 ½" across for the smallest ones, but there were plenty of them. On the flip side, the radishes were monstrous - 2 ½ inches wide!! Everything except the avocado was ripe and ready to eat, but it should be after a few days on the counter - I have bought harder ones at the grocery store.
The first thing I tasted was the tangerine - WOW! Pure citrus sweetness. Next, I whipped up a quick salad with the lettuce, arugula, carrots and radish, then added a little grated Parmesan and vinegar for lunch. Dinner was a stir fry with some of the tatsoi and sugar peas.
While, Justin does love spinach in his eggs (weird considering it is the only vegetable he will willingly eat), I was selfish and made a spinach salad the way Ma'am used to - spinach, sliced boiled egg, some bacon crumbles and honey mustard vinaigrette (dijon mustard, red wine vinegar and a little Avocado Blossom Honey from Temecula Valley Honey Company). Some of the Swiss chard will go to school with Justin to add to their Stone Soup for "S" week. And we need to make some of Justin's favorite Carrot Bread for a bake sale this weekend. As for the rest of my harvest, I think I need to spend some time checking out the recipes from Harvest 2 U (Chipotle Cheddar Chard, anyone?).
All things considered, I am glad I took the plunge and tried this out. Time will tell whether I will stay with it, but I think I will get more interest from my "boys" when the spring and summer harvests arrive.
If you are in the Temecula Valley, you can get more information from Harvest 2 U. If you'd like to find a CSA in your area, you can search by zip code on Local Harvest's site. If you already belong to a CSA, or have some recipe ideas, please post below or e-mail me at [email protected].
If you were hoping this blog was about St. Patrick's Day recipes you can check out my blog from last year for some ideas.
Until next time, happy eating!
~Audrey