In "Perfect", a subdivision in the town of Stepford, meal times are idyll:
Food is homemade, nutritous and delicious, always cooked to perfection and ready promptly at 6 pm.
Everyone comes to the table on the first call with sparkling clean hands and no toys, hats, cell phones or other electronic devices;
Work, school, sports and other activities never interfere with meal time; the television is never on and the phone never rings.
Everyone chews with his/her mouth closed and finishes chewing and swallowing before speaking.
Conversation is enjoyable,  questions are answered with more than "fine" and "nothing", please and thank you are always used when asking for something to be passed, there are no fights, and no inappropriate topics (such as bodily functions, horror movies, etc.).
Napkins are placed neatly in the laps, but never used because food goes directly in the mouth without a spill.
Everyone uses the proper utensils, plates and cups.
Food is either on the plate or in the mouth, not the table or floor.
Everyone enjoys eating everything on their plates, prefering whole wheat breads and pastas, veggie sticks to french fries, and fruit to refined sugars.
Everyone wants to stay at the table talking until the last person is finished.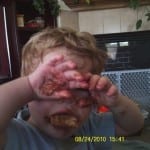 I, however, live on the other end of the universe in a place called THE REAL WORLD, and I don't mean that moronic show on MTV.   For the most part, we have progressed beyond the tantrums and food throwing; but are still working on using utensils and food staying in the mouth instead of being played with. The TV stays off except on Sunday and Monday nights during football season, by both Mommy and Daddy's choice!  And, I admit Justin has had chicken nuggets, pizza and french fries more than once.  I assume if you are reading this your family probably lives closer to me than "Perfect".  I know I have only been a mother for a little over 2 years, but I am giving you all permission to ignore the media and experts that make you feel incompetent and inferior for not being perfect  in the meal department. 
So why don't we just get fast food for our kids every night and not worry about table manners? I think we all know part of the the answer to the first question is the obesity epidemic we have all heard about ad infinitum from the media.  For those that eat out for lunch every day, don't you get sick of it sometimes?  Believe it or not, so do kids.  As far as table manners are concerned, I have three real world examples of why it matters (feel free to share them with your tweens and teens): 
Before the Junior prom, my date and I joined 5 other couples for dinner at one of the nicest restaurants in town. I broke the "girl code" and did not go to the bathroom with the other girls when they went just after we ordered.  As soon as they were out of earshot, one of the boys (not my date) asked in a slight panic, "Look at all of these forks, which one am I supposed to use?".  After stifling a laugh, I explained the table setting and gave them a few other pointers.  As far as I remember everyone got through the meal without any major faux pas'.
Just so you don't think I am picking on the males, a female friend told me about a conversation she had with her college age son concerning a date he had with a young lady at a 4 or 5 star restaurant. He told her he would never ask the woman out again because her table manners were so bad  - including chewing with her mouth open and talking with food in her mouth.
As Human Resources Manager I saw more than one young person's career hampered because of inappropriate behavior at meals with superiors.  While these young people may have thought they were "off the clock" since it was lunch time or an office party, the reality is they were with people who could help advance their careers.  But these superiors subconciously held a negative perception of these individuals that had nothing to do with the work performance.  Wrong you say?  Sorry, individuals with bad table manners are not a federally protected class of workers!
The easiest way to teach children proper behavior at meal times is to sit at the table together for a family meal.  Yup, it can be that simple.  It is easier to model the behavior for them then to just tell them what is expected. Plus, study after study has shown that children that eat at least one meal at the table with their parents are better off in almost every aspect (lower drug use, better behavior at school, better grades, etc, etc, etc.). 
If you aren't sure what to teach, just take a peek at the list at the top to get an idea of some expected behaviors at meal time.  Check this out if you need a refresher on table settings. I will add just one rule not mentioned above. Probably the strictest rule in Carleta and Denis' house was we always had to try one bite of something new and if you didn't like it the ONLY response was "No thank you, I did not really care for that."  I still follow this rule to this day and have enjoyed many dishes I might have been afraid to try otherwise. Except for Limburger cheese.  C'mon, if you have to plug your nose to eat it, how good can it taste?
Now that we have them at the table, with hands washed, what can you serve so they will eat?  I am hardly an expert, but here are a few ideas that may help:
General Suggestions:
Babies
For the first 4-6 months they are only going to have formula or, preferably, breast milk.  I found this recipe for Breast Milk Cheese too late or I might have tried it for J.  For those that thought "eeww gross!" shake yourself. It is "normal" to consume dairy products from an animal but not from our own species? I am not saying I want to be a professional lactator and make milk for others to consume, but here in America we really need to accept that our mammary glands exist to provide nutrition for our children and are not just sex objects. Enough said.
Once we moved on to solids, I made all of Justin's food.  No, I am not Super Mom.  It isn't that hard to cook, puree and freeze the fruits, veggies and even meats in ice cube trays then store them in zipper storage bags.  I am not going to waste space here detailing the subject because it is explained so well at Wholesome Homemade Baby Food.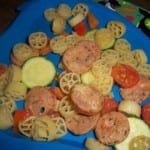 Toddlers and Preschoolers
Make fun food shapes: break out the cookie cutters, use a tool like this for those cool circle sandwiches,  make fruit flowers
Try a meal with everything the same shape or color, like "circle surprise" or a green eggs and ham type meal.
Supplement dishes with extra nutrition (aka - hide veggies in other dishes). This technique was made famous by Jessica Seinfeld's book Deceptively Delicious, now for sale at Kohl's for $5 with proceeds going to charity. I use it without shame. I will admit to the ingredients if asked, I just don't tell them from the start that there is pureed squash in the popsicles unless I am asked.
Elementary Age, Tweens and Teens
The difference between toddlers and teens isn't so much in what they will eat, but why they won't eat things.  Both like to test their control over situations such as meals. Both can be as stubborn when they refuse to eat something. Toddlers don't let peers or the media influence their diet. Unfortunately, as children age it will become another obstacle to eating.  Eddie Murphy discussed this in his standup show "Raw" describing his mother's attempt to make hamburgers "just like McDonald's" (due to some potentially offensive language I won't post the link, but it is easily found on You Tube).  If you are going to try to mimic something like "Chick-fil-A" sandwiches or "Popeye's" Red Beans and Rice

don't lie

, they know the difference and will have a hard time trusting you. 
However, don't be afraid to gild the lily a little. Ma'am claims Michael and I wouldn't eat bread pudding until she called it "Cajun Delight".  Geesh, even our Mom was marketing to us.  But it worked.
Pick your battles. One of my tween-age nephews refuses to eat anything with eggs. His mother could try to force him to eat them, threaten him with the old stand-by "you won't get anything else until you eat them." But she understands  he can obtain the same nutrition in other foods and she respects his choice not to eat them (unless they are in baked goods in which case he "forgets" they are in there).
Tie in the meals with what they are doing at school: country reports, science, fractions, etc.  When I was working in day care, one boy brought in some Tabbouli he had left over from a country report he had just presented in class - yummy snack that day!
If they make it they will eat it; or are at least more likely to try it.  By the time Michael and I were in junior high and high school we were doing most of the week night cooking and Ma'am cooked on the weekends. We made what we liked. I will expand much further on this topic in the next blog.
Until next time, happy eating.
~Audrey