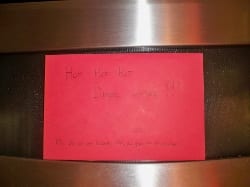 A few days before Valentine's Day, I stumbled downstairs in desperate need of caffeine after our darling little boy kept us up for several hours playing in the middle of the night to find  a card taped to the microwave that said "Hot Hot Hot Danger Danger! Do not get burned opening the microwave!" I looked at the calendar to make sure I hadn't missed an important date, then carefully opened the microwave to find...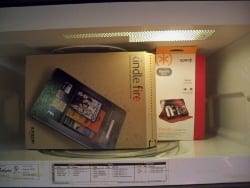 A KINDLE FIRE!  What can I say, the man was born on Valentine's Day - he is naturally romantic (or so he has told me since we met).  While an e-reader may not seem romantic to you, in and of itself it really isn't. But, presentation is everything - little tip for you there, gents. Spend an extra few minutes to give her a gift in a creative way will score major points!
To be honest, I haven't spent much time with it this past month, only a few hours a day, ha ha! And, when I am on the notebook instead I am often searching for books and apps for it. Ok, I am addicted already.
Besides some fiction titles like Little Women and One for the Money, I have also downloaded some e-cookbooks. Most of these are written for the electronic format by non professional chef; meaning the only have about 20 recipes at most, few if any pictures and no guarantees the recipes aren't missing ingredients or steps. They are also usually priced under $5, usually in the $2-3 range. If you have read my previous blog on charity cookbooks you can guess how much I love them.  The authors are individuals that probably wouldn't be able to get their cookbooks published with a traditional print publisher despite all of the hard work they put into creating them. And I am a sucker for helping out "the little guy".  I have added a few to the aStore, and all are ones I have downloaded or Ma'am did, since we share an account. The best one I have downloaded so far is The Home Baking Glossary of Terms (In the Pantry Baking Standards) by Joyce Middleton. But the Man Cave series by Matt Thompson is a close second.
For those that already spend too much money on their e-reader, how does free sound? Amazon.com has a list of free public domain cookbooks. And recently, I stumbled on a great source of free e-cookbooks and apps: Dining Downloads. Every day they comb through Amazon to find books that are free that day. You can get updates via e-mail or follow them on Facebook. The deals are usually on good that day, but I have found some great reads through them.
I am always looking for recommendations, so if you have a good e-cookbook, or a source for free/cheap cookbooks or apps, please let me know.
Until next time, happy eating.
~Audrey