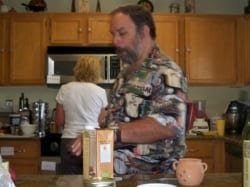 This past weekend, my Godpappy (Dad's cousin) Barry and his lovely and talented wife, Sandy, came to visit. Like any good hostess I wanted them to enjoy themselves and do whatever they wanted. So, on the second day of their trip they kicked me out of my kitchen and prepared a feast for us. 
I just sat on a bar stool watching in amazement and occassionally answering the "where is the ___?" questions they had.  If you have read any of my previous blogs, or know my family, this really isn't as strange as it sounds. What can I say? We are a bunch of foodies. In return I sent them home with a branch of bay leaves and some other fresh herbs, which was pretty exciting to them.
Before they even left on their trip they made us a loaf of her fabulous homemade bread (Matthew's favorite) and his peanut brittle (my favorite) and some lemon marmalade that was so much easier to make than the one I tried (their recipe's coming soon, I hope). While they were here they made a fabulous Italian sausage and beef pasta sauce and Nick Stellino's minestrone.  They made so much that I had to borrow a third stock pot from my neighbor to
Minestrone with freshly grated Parmesan Reggiano
cook the pasta. 🙂 Even after giving some awayto the neighbor as a thank you for the loan, we still have plenty of leftovers.
And as a final Father's Day tribute here are links to more recipes from the men in my family:
Happy Father's Day to all of the fathers, grandfathers, uncles, godfathers, etc.!
Until next time, happy eating!
~Audrey