We all know we should be eating better, but all of the nutrition information out there can be completely overwhelming. Paleo? Raw? Vegan? Gluten-Free? Whole 30? Mediterranean? Aaaaaauuuuugh!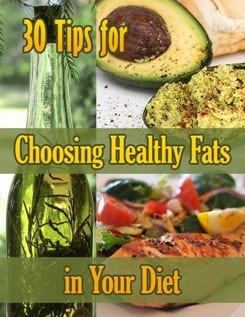 I am not knocking any of those diets. If you are having success with them and enjoying what you eat, keep doing what you are doing. But if you are like me, and you know you should be eating better, but aren't sure where to start, this e-Guide of 30 Tips to Choosing Healthy Fats in Your Diet is a good place to start.
Are you going to lose 30 pounds overnight? No! But, by making a few small changes you will be eating healthier, and that may lead to other small changes, that could lead to being healthier overall.
To get this free e-Guide, all you need to do is subscribe to the That Recipe Newsletter.
WHOA! Before you click the back button let me explain a few things.
Spam is awesome when you fry it up and put it on a toasted Sourdough English muffin with some nice spicy brown mustard on it. But, it is loaded with bad fats and preservatives, so it should be avoided. Especially in your inbox.
I will NEVER give your e-mail address to anyone for any reason.
I will also not clog your inbox with a bunch of messages daily. Every other week is more my style.
There is an unsubscribe link at the end of every e-mail so you can opt out at anytime if you find it isn't to your liking.
What's going to be in the newsletter:
recipes from me (d'uh)
recipes and food related articles from other bloggers I think you might like
maybe some food related humor, cooking tips and other goodies I stumble across that I want to share.
I hope you sign up and stick around for awhile, at least read a few newsletters before you choose to unsubscribe. But even if you just want to subscribe and run after getting the e-Guide, I hope you get something out of the material I prepared.
Once you subscribe, an e-mail will be sent asking you to confirm you meant to sign up for the e-mail list.
Until next time, healthy eating.
~Audrey