Ah summer time........ when gardens are bursting with fresh produce.  Here in Southern California, vine fruits are in season.   I'll offer some suggestions on other produce in future blogs, but today it is melons and grapes.
All kinds of ripe melons are beginning to become available at low prices at the grocery store, which is good because the ones in my garden are not doing so well.  What did do well in my garden this year was grapes.  Oh boy, do I have red table grapes right now!  So if you happen to have an abundance of produce in your garden, or from a neighbor's garden or just from the store here are some ideas.
I have been tempted to make this my entire meal.  It can be served as a salsa with chips or on a grilled chicken breast (yummy!) or as a fruit salad (particularly refreshing with breakfast).
Three and a half years ago I planted two grape plants, one Thompson and one  red.  When we had the yard redone a few years ago to get replace the lawn with California natives the grapes were transplanted to their current location.  Last year the red grapes produced one puny little bunch and nothing from the Thompson's. This year I have only harvested half of the red so far and ended up with 5 ½ cups of juice (will only have a few small bunches of the green).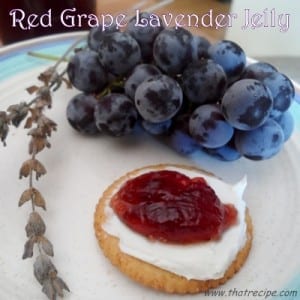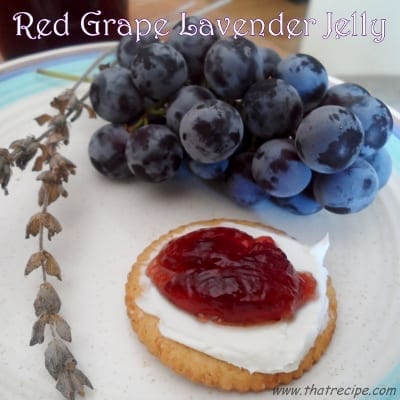 I only picked half since I wanted to start with a small batch because I planned on making my first attempt at jelly.  I have made preserves before which are a little easier since you just throw them in a pot with roughly equal amounts of sugar and boil until it reaches 8 degrees above the boiling temperature in your area (approximately 220 degrees).
Preserves are usually more of a soft set, not firm like jelly.  So, I pulled out my falling apart at the seams Joy of Cooking to figure out what to do.
There were two recipes, neither of which use pectin.  Pectin is what makes the fruit "gel".  It occurs naturally in most fruits, particularly apples, which is what commercial pectin is made from.  One recipe only used slightly underripe fruit and sugar and said if it doesn't gel "all you have lost is time". I hate wasting ANYTHING, particularly time - hey I have a toddler, can you blame me?  But I gave it a try - no go!
So I followed the instructions for fixing it (which is very similar to the other recipe in the book) by boiling an apple in a small amount of water and then adding it to the mixture.  It should have been a nice firm set per both methods of testing, over 220 degrees and the "drip test" - scoop out a small spoonful and let it cool if it drips from only one spot instead of two or more it should gel.
But once it was cooled it wasn't really firm like I think of when I think of jelly.  After thinking about it for awhile I remembered something my high school chemistry teacher, Mr. Ulrich, said about baking being chemistry because you change the composition of the ingredients.  I didn't have enough sugar on hand and instead of going to a neighbor and borrowing some, I added a cup of sucralose.  Same sweet taste, but the chemistry is different.  My best hypothesis is that the sucralose does not increase the boiling temperature to the same extent as the sugar will and hence it did not completely gel.
Luckily, I have plenty more grapes to use to test my hypothesis.  And I am sure I can find some use for the 4 cups of semi firm grape jelly.
Until next time, happy eating!
~Audrey