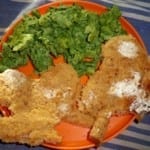 Happy St. Patrick's Day. We got into the spirit this morning with a little Dr. Seuss. Yup, you guessed it - Green Eggs and Ham. First we read the book then had breakfast. No artificial coloring here, we used spinach!
Justin actually likes spinach in his eggs. Normally, I just throw a handful of chopped spinach in with the eggs while I am scrambling them. Today I went for full fledged green! I pureed about ¼ cup of defrasted frozen spinach and about 1 tablespoon of water in the blender. Once it was liquified I put it four eggs and blended it until everything was well mixed, dump in a heated sautee pan until cooked! This was enough to tint the eggs green,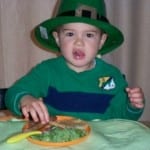 but no strong spinach taste. If you (and your children) like the taste of greens add more spinach, or use other greens of your choice.
Later we will have corned beef and potatoes with some home made Irish Soda Bread from the recipe my Dad got from the Collins family down the street when he was a kid. I might make one loaf without the caraway seeds and raisins for the boys.   If you are looking for that recipe, or some other St Patrick's Day ideas try my blog from last year.
Until next time, happy eating!
~Audrey