This will be our first real year of Trick or Treating with Lil Monster. The last few years we have stopped by to say hi to a few neighbors and show off his costume, but I think he finally gets the whole concept this time around. Hope Daddy is ready to walk A LOT.
I have great memories of trick or treating through my neighborhood as a child.  We had to go out with one of our parents, couldn't have any candy until we got home, one of them always checked our haul first then we got two pieces that night. Somehow the Sweethearts always disappeared if Mom was checking and Dad would swipe a piece of chocolate or two, but we didn't mind.  I am going to be a meanie and only let J have one piece that night, but he is only four and bedtime is a drama for us on normal nights!
I have been told my grandparents used to give out gigantic homegrown pomegranates, much to the delight of the neighborhood children (but probably not their mothers' that had to try to wash out the juice stains).  Those days are long gone. Nope, now it has to be prepackaged stuff.  If you don't want to add to the obesity epidemic in America's Youth you could go "healthy" with your giveaways.  Or, if you are going to be naughty like me and give out CHOCOLATE, you can always tell the other parents that many local dentists will "buy back" the candy in exchange for other prizes with the candy going to our Armed Forces.
Once I was too old for extorting candy from my neighbors I moved on to Halloween parties.  One of the most fun, was hosted by my swim club buddies Annie and Stevie.  They had everything decked out including punch with dry ice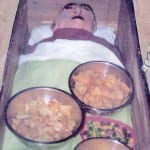 and a snack coffin. We also got to roam their neighborhood on a scavenger hunt looking for things like "ghostly change" (yes, Len, I remember your quick thinking of holding out an empty hand to get points for that one! I just wish I had thought of it first).
You can go to any search engine (or Pinterest) and get plenty of ideas for festive party foods, so I will only add a few pictures on the subject: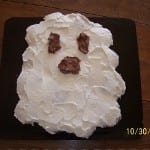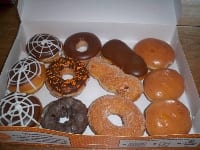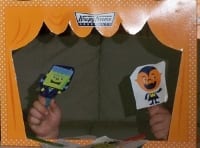 Hopefully, as I hand out candy, I will get to celebrating #OrangeOctober and the San Francisco Giants will be wrapping up another World Series title. Wishing you a spook-tacular Halloween.
Until next time, happy eating!
~Audrey