Only a few days left until the big night and you still want a showstopper dessert that is easy to make? I have three solutions for you all of which we had for Christmas Eve dessert (or some other occassion) at least once or twice growing up.
Ice Cream Snowballs were a frozen treat we bought at the grocery store and enjoyed Christmas Eve in the 1970's and early 80's and then I don't remember seeing them ever again.  An internet search says I am not the only one to experience this trauma. But, they are very easy to make. Soften some ice cream (preferably vanilla or any white colored), shape it into baseball sized balls, then refreeze them until hard, roll them in coconut, decorate (originally they came with a piece of plastic holly that held a red birthday candle) and serve.  You can make them ahead of time, I recommend at least a day in advance so they can harden up again.  If you use any flavor other than vanilla you may want to coat the ball with melted white chocolate before you put on the coconut to avoid the color of the ice cream showing through. You'll probably notice the strawberry peaking through in the picture from the Neopolitan I used.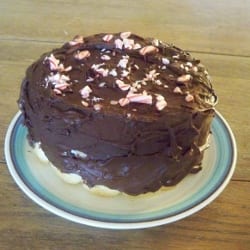 Another simple ice cream dessert is "The Bombe". Well, that's what Ma'am called it. Again, it is simple to make and must be done ahead of time to allow the ice cream to refreeze. This is what we will be having for dessert Christmas night this year. I tried to find those syrups you add to coffee to soak the lady fingers (no alcohol or caffeine since I have a 3 ½ year old that will be enjoying it!) but had a hard time finding them so I just made a simple syrup and threw in some peppermint candies. Decorated with melted chocolate chips and crushed candy canes and voila! a tres jolie dessert.
The final recipe isn't my idea, but someone in the Kraft Test Kitchens: Holiday Jell-o Poke Cake. I made this a few times in junior high/high school and probably haven't made it since. Basically you poke a white layer cake with a fork, pour red gelatin on one layer and green on the other, then frost it with Cool Whip and garnish.  You can lighten it up by using sugar free Jell-O and Cool Whip and an angel food cake - I'd suggest doing one color from the bottom then flip it and do the other color on the top so they don't blend together.
Well, this is going to wrap up my series on other Holiday desserts besides cookies. I have plenty more ideas, but also presents to wrap. So they'll have to wait until next year.  I hope you have a great holiday season and a healthy and happy 2012.  And remember to ask for those family recipes to insure traditions will carry on to the next generation and beyond.
Until next time, happy eating.
~Audrey