This weeks blog is a compilation of a few random thoughts that have come up lately, nothing really exciting enough to expand into a full blown blog entry on its own.
15 seconds of fame:  Like most food sections, our local paper has a column for readers to submit questions for recipes or tips from either the author or fellow readers.  A few weeks ago someone was looking for "smoky paprika", so I sent in Michael's instructions for smoking your own as well as a suggestion from my mother-in-law.  Well, we made the paper.  All I did was send in their ideas, but I am the one that got named.  I am sure I will hear about that from my little brother, haha!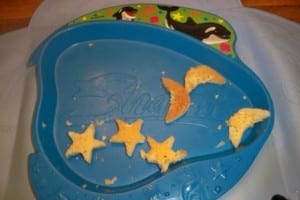 Presentation is everything:I made a big batch of pancakes the other day and still had some left yesterday. Fearing the snub of the 2 year old, I debated serrving them again or going with cold cereal.  Then I thought of my mini cookie cutters.  He devoured the little stars, moons and triangles, eating the equivalent of three medium pancakes.  I have to remember to use those as well as my regular sized cookie cutters more often.
A happy accident: While making some grilled bread the other day I became distracted (yes, by the demanding 2 year old) and let them rise for a few minutes before I put them on the grill.  Then he distracted me again and when I opened the grill lid they had poofed up like a balloon.  Normally I cut a little slit in them when they begin to rise and push down on them with the spatula to let the air escape.  But this time I realized I had just made pita pockets!  Stuffed them with some leftover grilled chicken and salad greens for a delightful sandwich.
A shout out to the Sharks: I swam competitively beginning in my pre-teens and finishing up after one year of college competition.  In my younger days I swam for a local club (mascot was "the Sharks") and have recently begun to reconnect with some dear friends with whom I spent hours upon hours soaking in chlorinated water and hanging out on pool decks - rain or shine.  Here are a few recipes from those days that I hope will bring back some happy memories of swim-a-thons and swim meets:
Peanut Butter Balls - I confirmed this with Ma'am, this is Mrs. Walters recipe.  Does anyone remember them having any hidden surprises in them?
Rainbow Finger Jewels- My mom would make a 9 x 13 pan of these that were 7 colored layers (in the colors of a rainbow) plus the milk layer.  Took awhile to make, put they looked cool and were definitely fun to eat.
Rice Balls - At swim meets, while the rest of us were eating yogurt or sandwiches brought from home or nachos with that ghastly processed cheese sauce and a few jalapeno slices from the snack bar, my friends Christine and Ron Matias were enjoying balls of rice.  I thought of these recently when I was trying to be creative with food for the toddler.  He loves balls, maybe he would eat a ball of rice.  Despite a few attempts I could not get them to stick together.  So, I asked Chris.  She may have been laughing at me on the other side of the keyboard, but she new exactly what I meant and why it wasn't working.  You need to use medium grain rice (e.g. Calrose).  Prepare per the package instructions, and once it is cool enough to touch, wet your hands and shape into balls and wrap with waxed paper, through them in a plastic bag and voila - a simple take along treat.  Her mom always made them baseball size, but I have been keeping them golf ball size for now.
Until next time - happy eating!
~Audrey