It is official. My mother has handed over thatrecipe.com to me. Wow! Now what? I could pull the site down while I make some updates or I could leave the site up and make my changes bit by bit.
Not wanting to leave anyone potentially without a recipe if I took the site down (the horror!), I am opting for the latter.  And I figured the fastest way to get up and running was to start a blog and put it up as the home page for now.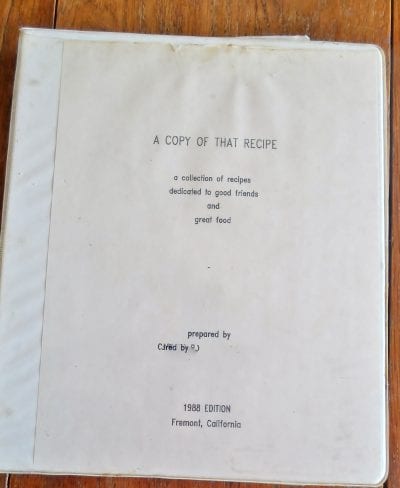 Some of you may have been lucky enough to have been aware of "A Copy of That Recipe" from its infancy as a collection of recipes my mother (or Ma'am as I call her throughout this blog) printed on a dot matrix printer, put into 3-ring binders then snail mailed or hand delivered to family and friends.  New recipes were sent out periodically for the owners to put in their binders.  My copy of the original sits proudly along with my other favorite cookbooks on my kitchen counter, with the additions stuffed in the pockets instead of filed as they should be.  Eventually, as she moved into the Web Content career field, Ma'am created thatrecipe.com figuring it would be a great resume piece for job searches and would be much faster and easier to update.
A few months ago she announced she was considering letting the domain name and site go.  I immediately volunteered to keep all of her hard work going.  Well, I didn't want to download or print all of the new recipes, I wanted them right online where I have gotten used to finding them.  Hey, my mama didn't raise no dummies!
As of tonight the plan is to update the blog at least once a month to point out some of the great recipes already on the site as well as some new ones that we have been meaning to get up here.  If you want to start exploring what is already here, or you are looking for a particular recipe, head over to the original recipe index.
More to come soon!
~Audrey
Save