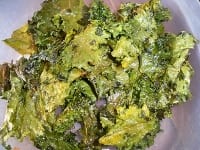 A few days ago I tried homemade kale chips and was bitterly dissappointed, pun intended. In my last blog I admitted that I might have done a few things that caused them to be underwhelming so I vowed to try again soon. My friend Mary was interested in the results, and since she decided to bring her daughter, Libby, age 2 ½, over for an impromptu play date this morning I figured it was the perfect time to try again.
I folded the leaves in half and cut the stem out, resulting in two pieces per leaf. Then I washed them, blotted them dry with a paper towel (I don't have a salad spinner), put them in a bowl with a tablespoon of olive oil and some sea salt, laid them out in a single layer on a non insulated cookie sheet lined with a piece of parchment paper, then into a preheated 350 degree oven - not the toaster oven. [Whew, following directions to the letter is hard for me!]  I checked on them frequently and quickly removed the chips as soon as they became crisp putting the rest back in the oven. The curlier leaves seemed to take a few minutes longer.
And the results of the taste test are:
Me: good crunch, yummy with no bitter aftertaste, a bit too much salt even for me
Mary: I would make these, they are too thin to try to dip (and too much salt)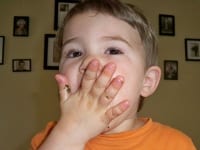 Justin: Please have more green chips! (he even snuck back into the kitchen when we were in the other room and polished off the rest).
Libby: No, thank you
I forgot that you need to use less sea salt than table salt when sprinkling it on top of things - oops!
So, that makes it a three out of four stars. Plus one happy Mommy because I have found another way to sneak veggies in on Justin! and double bonus -  it is a good low calorie crunchy snack for me.
All in all, definately something I will make again, just not when my husband is home because the house did smell a bit like cooked cabbage when I was done. I just baked some bread to overpower that smell. ha ha!
Until next time, happy eating.
~Audrey