I have six dedicated cookbooks for children, ranging in print date from 1950 to 2007 and designed for age ranges preschool to preteen. Each is unique and I have prepared at least a few dishes from each one.  You do not need to buy a special cookbook to teach children to cook.  If you do want to buy one, I have a few suggestions:
make sure it is age appropriate (preteens probably do not want to make Grover's Berry Face Pancakes)
the directions should be easy to follow in a language the child can understand
there are at least 3 recipes you will make (that's my rule for any cookbook)
it has a good glossary of cooking terms
Some things have not changed in the 60 years between the printing of my cookbooks like wash your hands, ask before using the oven or stove, and read the entire recipe first.  In other ways they are worlds apart such as the ingredients used (not too much canned soup in the later books) and what to wear.  Just for fun here is a review of my treasures.
by Julia Kiene (copyright 1950, Westinghouse Electric Corp.)  This book belonged to my Dad and his sister and probably came with a new Westinghouse electric range.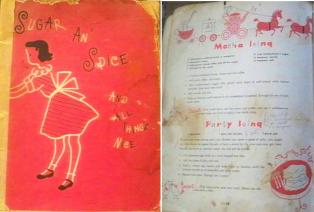 Best Part: 1 - The Dress Code "You girls can wear a simple little cotton dress, and always an apron... You boys can climb out of your shirts, if you wish, provided your t-shirt is clean. Probably a nice pair of Levi's would be best for you." 2 - the recipes all call for "fat" (not butter, oil or margarine) and the meat dishes add the comment "bacon drippings are excellent".
Recipes We Have Made: Quick Mix Devil's Food Cake and Mocha Icing, Inexpensive Layer Cake
Looks Interesting: Cornstarch Pudding
Not in this House: Tuna Fish Casserole (canned tuna, cream of mushroom soup and a "dime bag" of potato chips)
by Ursula Sedgewick (copyright 1967 Golden Books). This was my first cookbook.  I don't know when I received it, I just always remember having it.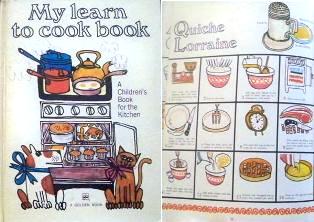 Best Part: Each step in the recipe is fully illustrated and there is a cute cartoon cat and dog playing throughout the book.
Recipes We Have Made: Quiche Lorraine (if I am not mistaken, my friend Shannon and I made this recipe to get extra credit in French class our sophomore year).
Looks Interesting: Chocolate Mousse (Justin turns to this page whenever he can get his hands on the book just to look at the dog and cat covered in chocolate).
Not in This House: Eggs in Tomatoes (literally an egg in a scooped out tomato, topped with bread crumbs and baked - no way the boys will touch that).
by Virginia Ellison (copyright 1969 Dell Publishing Co.). This was the first cookbook I bought with my own money ($1.25) from one of those book orders at school. Lots of honey recipes as you would imagine as well as recipes for teas and picnics.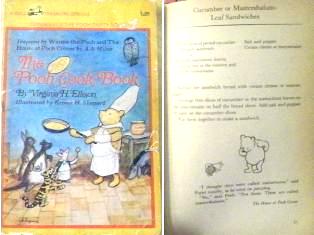 Best Part: Most recipes are based off of lines from A.A. Milne's books Winnie-the-Pooh and The House at Pooh Corner.
Recipes We Have Made: Popovers for Piglet; Muffins, Plain or Blueberry; Cucumber or Mastershalum-Leaf Sandwiches.
Looks Interesting: Cottleston Pie.
Not in This House: Lamb Patties with Mint Sauce.
by Braiden Rex-Johnson and Chef David Wasson (copyright 1995 Sasquatch Books).  Ma'am picked up this treasure years ago from the bargain bin at Cost Plus (still has the $2.97 price tag on it) probably for research for the site and then passed it along to me when I was expecting.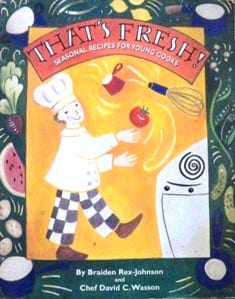 Best Part: The authors were ahead of their time in their use of fresh and locally grown ingredients that is now immensely popular. It encourages children (and their parents) to talk to the fish mongers, farmers, bee keepers, etc at their local Farmer's Market and U-Pick-It Farms.
Recipes We Have Made: Zucchini-ville Muffins and Black as Night BBQ Sauce.
Looks Interesting: Inca Pudding Cake (uses quinoa!)
Not in This House: Honestly, not too many things. They all look great. If I had to choose I would say Lebanese Cauliflower.
by Emeril Lagasse (copyright 2005, Harper Collins). Many in my family do not like Emeril (particularly his Emeril Live tv show) because he is so over the top and is often more focused on entertainment than teaching the viewer how to cook. He is wild, loud, plays great music and "cooooks" - we love Emeril Live in our house. I'd much rather he watch that than Barney or most of the other kiddie shows out there.  Grandma gave Justin this book before he was even born.

Best Part: Emeril loves kids and cooking and you can tell this book was something he was passionate about when he wrote it.
Recipes We Have Made: Baby Bam, Cheesy Star Snacks, Big Em Little Em Cookies
Looks Interesting: Man Oh Man Potato Casserole and Junior's Jambalaya
Not in This House: Spaghetti Pie (eight eggs! I like the one in the next cookbook better)
by Susan McQuillan (copyright 2007 Sesame Street workshop).  All of my other cookbooks are written for older children. This book is for the Sesame Street set, ages 2 to 6 to begin cooking with a grown up. Each recipe is labelled with steps that a preschooler should be able to do. This is the only other cook book to mention how to dress, with a simple "if they wear an apron make sure it is sized for them."

Best Part: Duh! Sesame Street characters on every page! Plus it is a spiral bound hardcover so it lays flat on the counter - a big bonus in any cookbook.
Recipes We Have Made: Big Bird's Spaghetti Pie and Grover's Egg and Sausage Strata
Looks Interesting: Grover's Chinese Meatballs with Sesame Rice
Not in This House: Ernie's Jelly Omelet (there is a note with the recipe that says there are lots of recipes for sweet omelets, but it just sounds weird to me).
Next blog I will have a bunch of new recipes posted, so it may be a week or more before I get it up. But they are worth coming back for (including Mike's Red Beans and Rice - New Orleans style, of course!)
Until next time, happy eating!
~Audrey