and by Mommy I mean Mommy or Daddy or Auntie or Uncle or Grandparents or babysitter, or anyone else that wants to help children explore in the kitchen.
This is the first of a four or five part series I am planning on Kids in the Kitchen.  Since it has been brutally hot here in Southern California and I haven't felt much like cooking we will start with Kitchen Art - arts and crafts from things found in the kitchen .  In the next few weeks I will post my ideas for cooking for and with kids, but if you want some ideas now here are Ma'am's suggestions. 
We have done two activities lately, modeling clay and potato printing.  There are some other ideas here such as what to do with left over crayon bits and how to make face paint (might want to bookmark that one for Halloween) as well as suggestions for encouraging creativity in children.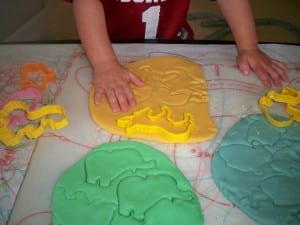 MODELING CLAY
I had the following conversation recently with a friend with a boy a few months older than mine:
Me: We did "play-dough" the other day.
Her: I could never do that because ________
Us in unison: he would eat it.
I then explained that I had not used the commercial stuff, that although it is non-toxic is still not something I would want him to eat, which he would definately do as well.  If kids eat the homemade dough at worst they will just be pretty thirsty.  At 2 years old, Justin is still in the exploratory stages with the clay, getting used to how it feels and how he can manipulate it, using cookie cutters and other objects (including his hand) to make imprints.  Older children will enjoy making objects with the clay which can then be baked in a low temperature oven until it is baked all the way through if desired.  We stored ours in ziploc bags in the refrigerator for about 2-3 weeks until it was a little too tacky and the colors had been blended together one too many times.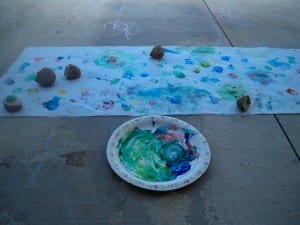 VEGETABLE PRINTING
A fun activity for all ages.  I remember one year as a teenager we made Christmas wrapping paper out of this using red and green paint on kraft paper and star shapes.
vegetables usually potato but you can also try carrot, radish, celery, onion
non-toxic washable paint (finger paint, poster paint, etc)
paper plate, pie tin, plastic container lids or other shallow dish to hold the paint
spoons and knives (plastic for children old enough to handle them, omit for young children)
paper
Begin by preparing the vegetables, cutting them in half or on a diagonal to create interesting shapes.  The children (or you if the children are too young) can carve shapes into the potato halves such as circles, squares, triangles, etc.  I advise keeping the designs simple as the details tend not to show up well when stamping. Put the paint in the dish and start stamping!
Don't worry about the results, just let the kids experiment. Justin was more interested in mixing the colors and feeling the paint, occasionally making hand prints, before he started getting interested in putting the potatoes in the paint and then stamping it on the paper.  Who cares? He had fun and worked on his motor skills and color and shape identification, plus he even started learning a little about color mixing.
Next blog will be more working with kids inthe kitchen - until then, stay cool and happy eating!
~Audrey