Many elementary schools, at least here in our area, are on vacation the entire week of Thanksgiving. Probably because parents were pulling their kids out on Wednesday (if not the whole week) for travelling which ended up costing the district big bucks.  This leaves parents or caregivers with an extra three days to occupy those little darlings or risk them driving you insane.  Trying to keep with the food theme of the site, here are some ideas for food crafts and table decorations that might help pass some of that time.
Apple Turkey
I did this in kindergarten but we used the colored marshmallows to make the tail feathers instead of the cereal. I remember it vividly! When I bit into the apple on the ride home from school, I lost my first tooth!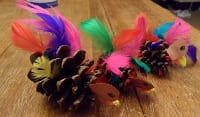 Pine Cone Turkey Centerpiece or place tags
C'mon, this is as basic as hand turkeys. Pine cone, feathers, construction paper, chenille stems and glue. Voila!  For place tags, make one for each person, write the names on little cards and wedge them into the pinecone
Indian corn napkin rings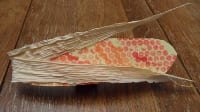 I bet you can't guess what we used to make the kernels. Click on the photo to enlarge and look carefully. It's a common household item. Give up? Bubble wrap. Basic instructions are here.  We just used small bubbles, printed it with red and yellow kernels, cut into long ovals and added some strips of corn husks (look in the Mexican food section of your grocers) then glued it to circles cut out from paper towel tubes. This ended up being three different projects spread out over a few days to let the paint then the glue from the corn husks dry.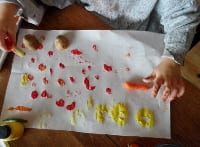 Potato Print Placemats
Get paper placemats (or any large placemat sized paper), some potatoes or other vegetables and dip them in paint and stamp. I would cover with clear contact paper if you plan on leaving them on the table when you eat.  Not just so they don't get destroyed, but paint + food = not a great mix.
Leaf Rubbing Placemats
Get some leaves from outside (crunchy ones won't work) place underneath paper placemats and rub with crayons.  Cover with clear contact paper for food safety as well as to protect them.  Alternatively you can glue the leaves to the placemats and cover.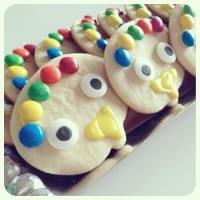 Turkey Cookies
My friend Destiny made these for her daughter's preschool class. Basic sugar cookie recipe, pumpkin cookie cutter, M&Ms, Wilton candy eyeballs and frosting.  If our kids (Justin and Adi are 6 days apart) helped they might not look as cute but you could always sneak back and "fix" them when they aren't looking if you want them as beautiful as these. If you have any candy corn left, they would make cute beaks - just a thought.
If you are gathering with family this holiday and enjoying those special family dishes, please remember to make sure someone has the recipe written down!
Until next time, happy eating.
~Audrey