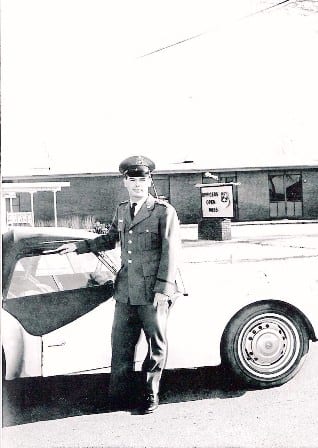 I know this week was supposed to be the 3rd part of my series on Kids in the Kitchen, but I need to take a time out to write about my father, Denis J. Vineys.  He passed away in his sleep on Saturday Sept. 11 at 70 years old.  My father would not want anything sad or maudlin said about him, so this is going to be a celebration of his life and keeping with the theme of the site it will be food related.
Dad loved 3 things:
1) his family (Mom first, then grandson J-Max, then the rest of us)
2) his country
3) "debating" with his family about the way this country (state/city) should be run
If you think #3 is irreverent, you probably didn't know Dad too well.  I am sure the first people he sought out in the after life (after the family) were those "GD commies" that messed things up to give them a piece of his mind. It didn't matter what party someone was affiliated with, if he disagreed with you, you were a GD commie (though he would have used the full expression and not abbreviated as I have).
Quick comment about the photo before I get to food.  This was taken when he was the Bachelor at Large at Reese AFB in Lubbock, Texas.  But since he was too short for Wanda, she set him up on a blind date with my mother on Valentine's Day.  
One of the first things my brother did when he heard the news was to make quesadillas just like Dad used to make, with lots of butter, monterey jack cheese and diced green chiles.  If I remember correctly, it was his sister Sue that first showed us how to make them on an electric skillet in my parents old house.  When I had oral surgery in junior high, I was sacked out on the couch trying to stay awake to watch General Hospital while Dad was in the kitchen making a batch for me thinking it would be something I could eat since I wouldn't have to open my mouth to wide to eat them. I think I ended up swallowing most of them without chewing much because of the pain, but they were awesome.
After the quesadillas Mike moved on to pancakes, just like Dad showed him how to make 30 years ago. You can tell we are siblings because my mind also immediately started going through food he loved that I had to make this week . "Grieving through food" as Michael said.
Dad was an unapologetic carnivore. He liked his steak and hamburgers cooked "as rare as the law will allow" as he told many a server when he was ordering.  I had a picture, which I cannot find at the moment, of a full Meatloaf with slices of bread on each side that Ma'am labeled "Dad's meatloaf sandwich". 
Even though Ma'am created this site and loved to cook, Dad did  much of the cooking during the week because he got home first.  another picture I can't find at the moment is of him making pasta, surrounded by racks of drying noodles.  Another labor intensive dish he would make is his mom's Enchilada's. An easy dinner, which we are having tonight since I finally bought the olives, is Tamale Pie.  He just taught their caregiver, Ema, to make this a few weeks ago. I could hear their laughter over the phone as I tried to talk to Ma'am who was in the other room from them. 
On the grill is was either blackened steak (using Paul Prudhomme's spice mix or their own copycat blend) or Beef Tournedos.
My parents loved sports, and they especially loved to bet with each other on big events like the Super Bowl, World Series or college bowl games like when Cal played Texas Tech a few years ago.   Even if they both liked the same team, they would still have a bet. The stakes were usually dinner. If Ma'am won it was salmon, if Dad won it was Beef Stroganoff. 
One favorite I would make when I visited them or they visited me was a chicken dish with tomatoes and mushrooms from a recipe I found in a Cuisine magazine back in the 80's.  I will post the recipe soon, but I am bringing it up now because he was the one that taught me how to cut up a whole chicken the first time I tried to make it. 
Dad wasn't much for sweets, at least not like I am.  I have to have something sweet after every dinner, and usually lunch too (which is my waist looks like it does).  He would occasionally make a cherry pie (heating a frozen one) and oatmeal scotchies.  For Christmas he would make Cherry Nut Nuggets and Snickerdoodles. And I remember he liked my cousin Michelle's sugar cookies after Christmas dinner.
When he was young he had Irish Soda Bread at a neighbor's house. He copied the recipe from her and brought it home to his mother to make.
Ma'am requests that no one send her flowers or cards since she is trying to clean out the house to move closer to her "Babes", my son Justin. If you would like to pay tribute to Dad here are a few ideas
if you have a memory of my Dad that you would like to share you can post it below or e-mail me at

[email protected]

. I will be sure to share with Ma'am and Mike.
make a donation to the Elks National Foundation in his name
raise a glass to his memory, preferably with something alcoholic in it (a very dry martini, vodka, or a good scotch would all be appropriate, haha!)
That is all for now. Next blog will get back to Kids in the Kitchen.
~Audrey