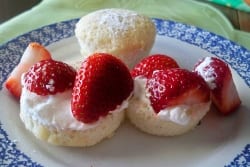 This Sunday it is time for yet another one of those Retailer Invented Holidays - Grandparents Day! I refuse to buy them anything, especially since I know J's grandparents treasure homemade cards and gifts.
One thing I won't be sending them is these Angel Food Cupcakes. Not because they weren't delicious, but I don't think they will mail well. Ma'am will get a kick that I made them though because of a story about my grandparents.
Grandfather Smith wanted to make a cake for his wife's birthday, and her favorite was Angel Food Cake. He knew you needed a special pan, but didn't know you needed a special mix (or recipe). Secretly, he tried and tried but he just couldn't get it to come out right. When he finally told her, she was more touched at how hard he tried than she probably would have been if he succeeded. Hence, I always think of my grandparents when I see angel food cake.
As far as this recipe is concerned, I didn't have a full teaspoon of cream of tartar and got a smidge of yolk in the egg whites so I couldn't get the eggs stiff enough, but I went ahead and finished them anyway. I figured at 2 Weight Watcher points apiece I'd eat them if no one else did (at the 12 cupcakes per recipe it is 3 points, but I made them a bit smaller and got 16). They are a bit dense and spongy, but were still devoured by the munchkin when topped with strawberries and whipped cream.  Sifting the flour and sugar 4 times was the highlight of the baking experience for my little sous chef, and he managed to keep 98% off the table/floor. It took the whites of 8 large eggs to come up with 1 ⅛ cup, plan to have at least 9 ready in case yours are a bit smaller. Definately a recipe we will be making again.
Thanks Sean and Noodle McNoodle!
Until next time, happy eating.
~Audrey