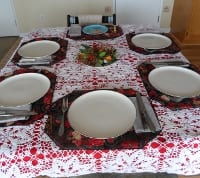 Keeping Christmas Liner (Lupper? whatever you call between lunch and dinner) simple this year:
Chocolate and Chili Powder rubbed Prime Rib
Rosemary Potatoes
Honey Wheat Rolls
Steamed Green Beans and "Reindeer" Carrots (sshhh eating the evidence) with a splash of sesame oil.
Cookies from the neighbors (there are a bunch!)
Merry Christmas everyone.
~Audrey