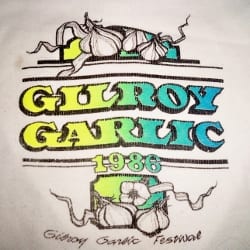 It's time to Eat, Drink and Stink! If you are anywhere near San Francisco's South Bay Area this weekend you will probably smell the festivities of The Gilroy Garlic Festival, an annual fundraiser/food festival dedicated to all things garlic! It features great music, arts and crafts vendors, rides and activities for children, beer and wine tasting and food! Lots and lots of garlicky food including free samples of garlic ice cream. Yes, I have tried it - think vanilla ice cream with lots of garlic powder dumped in it. It was interesting, but I wouldn't go back for more when there is pesto and garlic fries and an apricot freeze (non-alcoholic apricot smoothie) calling my name instead!  It is a fabulous time and I recommend everyone go at least once!
Garlic is an integral part of the Lalanne/Vineys family history. Just a few things off the top of my head:
 my brother/grandmother's garlic dip (basically add enough sour cream to hold the garlic together)
my Italian grandfather and his future son-in-law's Chinese father having a garlic eating contest at the rehearsal dinner for the wedding (at least I think that's when it was).
both my grandparents and my Portugeuse uncle used to grow it.
I grew some last year and wondered what I could do with it besides making a decorative braid or peeling and chopping it and storing it in oil.  In the 100th Anniversary Edition of the Ball Blue Book I found a recipe for Garlic Jelly. Yup, you read that right, garlic jelly! Then I wondered what the heck would you do with Garlic Jelly. So you know I had to try it just to see what it tasted like. 
I made it with regular distilled vinegar simply because that is what I had on hand. When I first tasted the small bit that didn't fit in the jars I found the vinegar overpowering. But I will say when I tasted some from one of the jars months later it had mellowed a bit. Still, if I ever do it again I will use a milder vinegar like Champagne or White Wine.  I gave away the jars to my familly and friends to see what they could come up to do with it.  A few things we tried:
BBQ sauce - complete bust. maybe if you made it with brown sugar instead of the white, but to me BBQ sauce needs that molasses flavor
Pasta Sauce - okay if you like sweet pasta sauce. I don't. My mother-in-law said she just added a tablespoon or two to a quart of tomato sauce along with some spices and it was good. 
Shrimp Dipping Sauce - good. My MIL had some cooked shrimp in the fridge when I gave her the jar. We looked at each other and said "I am game if you are", and we stuck the shrimp straight into the jelly. It was a nice change of pace from the usual horseradish sauce usually served with a shrimp cocktail. Next time I might try it with a little tomato sauce and go for a sweet and sour sauce.
Asian Marinade - yummy. My friend, Tola, mixed it with some soy sauce, and herbs/spices like lemongrass, Thai basil and red pepper and used it as a marinade for chicken (pork, beef or seafood would work well too).
Cherry (or Peach or Apricot) and Garlic Pork - yummy! This one is Michael and Melanie's concoction. They mixed fresh stone fruit (peaches, cherries, or apricots) with the garlic jelly and marinaded a pork roast. Or you could do the reverse and mix some minced garlic with a little vinegar and cherry/peach/apricot preserves.
Another idea I have not tried is to put a block of cream cheese on a plate and top it with the garlic jelly (normally I use jalepeno jelly) and serve as an appetizer with crackers or crostini.
If you try the garlic jelly with different kinds of vinegar or sweetner I'd love to know how it came out and how you used it: [email protected].
Until next time, happy eating!
~Audrey