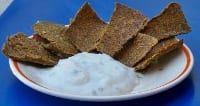 In my last blog, I wrote about some of my failures in the kitchen. Believe me, there are many more than just those. But today I wanted to mention a few of the successes I have had, particularly using up the pulp leftover from my adventures in juicing.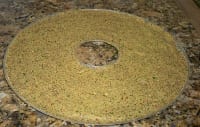 Juice Pulp Crackers - I had to laugh when Laura Groch suggested I try the dehydrator to make crackers, because I had already done so and they were great. I used 2 cups of vegetable pulp leftover from juicing (tomato, carrot, cucumber, onion, some greens - NO FRUIT!) and mixed it with 1 cup of ground flaxseed meal and some Italian seasoning. Yes, I actually keep flaxseed meal on hand ever since I read in her column that it can be used as a healthy substitute for eggs and/or oil in a baking. Check the baking aisle of your grocery store or try a health food market to find it.
I have a dehydrator so I just spread the mix on the trays I use to make fruit rolls scored them with a knife so they would break easily when done and started dehydrating. It only took a few hours in mine, but the time is going to vary based on how thick you spread it, how much heat your dehydrator produces and how much juice was removed from the pulp. For comparison, I made a second batch from fresh vegetables I threw in the processor without juicing and it took about twice as long.
Vegetable Juice Pulp Soup - I added equal amounts of pulp and chicken stock and simmered for about 15 minutes to fully soften the pulp (personal preference, may not be necessary), then topped with some leftover chicken and noodles in the fridge.
Pineapple Pulp Marinade - I cut all of the outer brown part of the fresh pineapple off and threw it in the composter, then I sliced off the next layer that still has those little "eyes" (not sure of the technical name) and the core and juiced those - the rest was chunked up and my guys devoured that.  I added some soy sauce, brown sugar and a dash of crushed red peppers to the leftover pineapple juice pulp to make a marinade some chicken breasts. The result was tasty, but some of those little eyes made it to my son's plate and Mr. Picky threw a fit - lesson learned, make sure all bits are all brushed off or run the pulp through the food proccessor a bit before marinading.
After those successes I have pretty much given up juicing for awhile and am enjoying my vegetables and fruits whole, in salads, or pureed in smoothies. I couldn't stand the waste and my juicer takes up a pretty big spot on my counter. I will probably get the urge to juice again some day and will let you know if I come up with any more creative ideas for the pulp. I'd still love more recipes from you if you have them.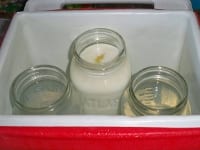 The other major success is homemade yogurt. My mother called me a "hippie" when I told her what I had done. Get with it, Ma'am, all the cool kids are into crafting their own yogurt, cheese, jams, jellies, etc. these days. Ha Ha! Seriously, yogurt is easy to make with minimal equipment and ingredients. I used the cooler method outlined on Crunchy Thrifty Healthy Cool. I used nonfat milk and it was pretty runny, so I strained it to make it thicker. This is normal since most US dairies put pectin in the yogurt to make it thicker. I figure even if I use the expensive organic Omega 3 DHA blah blah blah $5 a half gallon milk that we get for J and strain off a cup of whey per batch we are still paying $3.33 per quart for organic excellent quality no additive yogurt.
I read on another site that you can add "some" powdered milk before scalding the milk to make a thicker end product. I added a half cup which must have been too much. While it was thicker, the whole batch had that perfumey powdered milk taste and smell that makes me gag. I threw it all away except 2-3 tablespoons to make the next batch, which was thankfully back to normal.
With family visiting next week and a quick vacation I don't know how much cooking I will be doing, which might be a "real" vacation for me.
Until next time, happy eating.
~Audrey