I love cooking with my son. Not only is it fun, it helps him practice measuring skills, reading, following directions, gross motor skills, fine motor skills and patience. Yeah, especially patience.
I saw some adorable Turkey Shaped Cinnamon Rolls the other day on Pinterest and showed J the picture. He could hardly wait to make them. 
I already had a roll of Light Cinnamon Rolls in the fridge, but no biscuits. So, last night before bed I made a half batch of Refrigerator Biscuits and stuck them in the fridge.
This morning went something like this:
6:30a.m.
 Me: "Do you want to help Mommy make the Turkey Cinnamon Rolls?"

J: "YES!"

Send J to wash his hands. Preheat oven. Take out cinnamon rolls and biscuit dough from fridge. Remove about ⅓ of the biscuit dough and flatten it out by hand because I was uncaffeinated and too lazy to get the rolling pin (the rest of the dough went back in the fridge) .

Put some colored sprinkles in a small bowl and get out some chocolate chips. Get out large baking sheet.
6:35 a.m.
Open cinnamon rolls.

J: "It POPPED!" giggle giggle

Cut feathers and heads from the biscuit dough, decide to skip the feet because they looked funny and I was feeling lazy.

Let J dip feathers in the sprinkles then assemble on the baking sheet. Three feathers per turkey (his choice, I'd have done 4 or 5), then cinnamon roll on top and push down gently, put head on top and push down gently, push in two chocolate chip eyes.
6:39 a.m.
J: "Can I eat them?"

Me: "First they have to bake." Snap a quick photo then into the oven they go.
6:40 a.m.
Decide against making turkeys with the remaining 4 rolls because I was still uncaffeinated (and still lazy). Put them on small baking pan and into the oven as well.

J: "Are they done yet?"

Me: "No, I was just putting in the other rolls. Why don't you go play for a little bit while they cook?"
6:41 a.m.
J: "Are they done yet?"

Me: Turning on oven light so we could peek "Hmm, do they look done yet to you?"

J: "Yes."

Me: "I think they need a little longer, probably until six fifty."
6:42 a.m.
J: "Is it six fifty yet?"

Me: "What does the clock say?"

J: "Six forty TWO. Are they ready yet?

Me: "Not until six fifty. Let's count how many more minutes that is. Forty three, four, five, six, seven, eight, nine, six fifty. Eight more minutes."
6:43 a.m.
J: Hearing the microwave beep. "Are they done yet?"

Me: "That was just my coffee. Let's sing the Daniel Tiger "When we wait" song."

J: Sighs and gives me that universal "Don't be stupid, mom!" look and goes into the other room.
6:44 a.m.
J: "Is it six fifty YET?"

Me: "Moooom, we're dying! No you're not, you're just hungry.* How about some juice or milk while you wait?" Pour him a cup of juice." (*from a Totino's Pizza Rolls commercial - one of his favorites)
6:46 a.m.
J: "Are they ready?"

Looks at clock, heads back to the other room, pouting.
6:48 a.m.
As quietly as can be I open the oven door and sneak a peek. Within seconds...

J: "Can I have one now?"

Me: "Sorry champ, I think they need a few more minutes."

J: "Noooooooooo! Don't put them back in."
6:50 a.m.
Remove turkey shaped rolls from oven, put one on a plate to cool, quickly snap a few pictures.

J: "Are they done?"

Me: "Yes!"
I quickly smeared on some icing on the body than gave him the plate. We had a moment of panic when he picked it up and the feathers fell off.
Me: "Let's just eat the feathers first."
J: Thinking about it, "Okay." He then proceeded to polish off two rolls in about 5 minutes.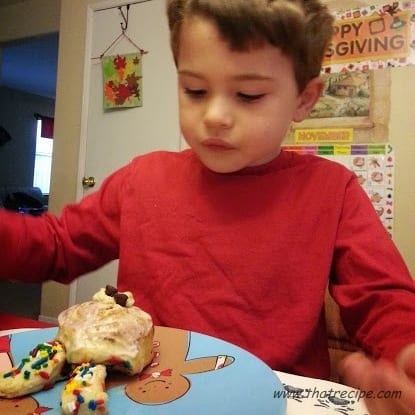 ---
For a healthier, all homemade, whole-wheat version go visit Life as Mom the original site I borrowed the idea from. I still have it pinned and think I will try those next year, or maybe on Thursday morning.
Until next time, happy (and hopefully, patient) eating!
~Audrey