April is here which means Earth Day is not to far off. I think it is nice to take a little time out of the year to think about simple ways we can all help the planet. This week's features are all about using and reusing jars and bottles.
My most recent jar creation is these preserved lemons that I used to make some creamy Lemon Herb Salad Dressing.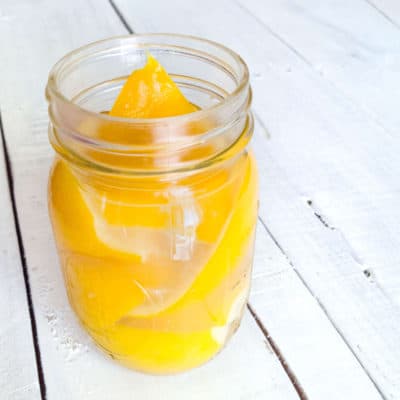 Do you like the background in the photo above? It is one of many ideas for cheap and easy photo backdrops for bloggers. Check out this post if your food and craft photos could use some inspiration.
Welcome back to the Happiness is Homemade Link Party
Happy Easter to those that celebrate. And to those that don't, I wish you a stress-free Sunday.
I am so excited to be picking the features for you this month. I forgot how hard it is! So many amazing posts are shared with us every week. With Earth Day coming up in a few weeks I decided to go with a reduce, reduce, recycle theme today by focusing on some creative ways to use jars and bottles, including actually using them for canning food. 🙂
Check out our features, stop by and say hi to the hostesses and, of course, share your homemade posts with us.
-Audrey from ThatRecipe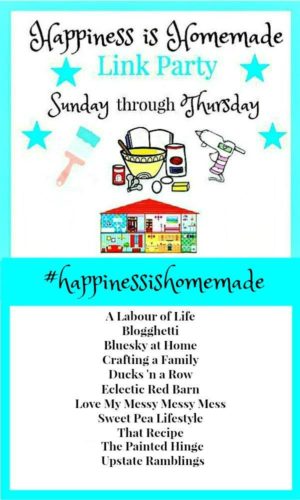 On with this week's features!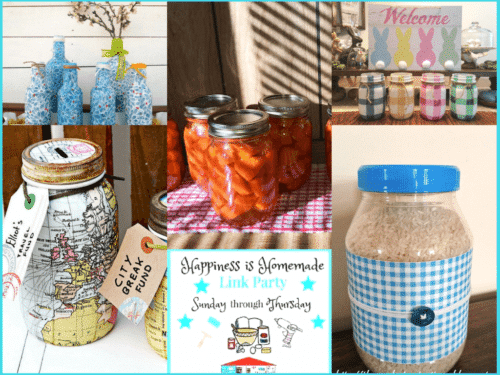 How Not to Decoupage Plastic Bottles with Napkins from the Boondocks Blog had my nodding my head in sympathy. So many projects seem so simple in my head and then turn into a grand ordeal. They sure came out pretty though.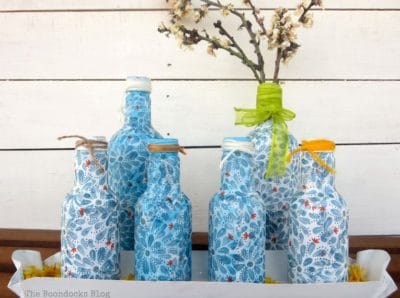 Oh yeah, the dreaded bag of rice (or popcorn) that always ends up spilling all over the counter. The Apple Street Cottage has a pretty and easy solution with this easy upcycling project.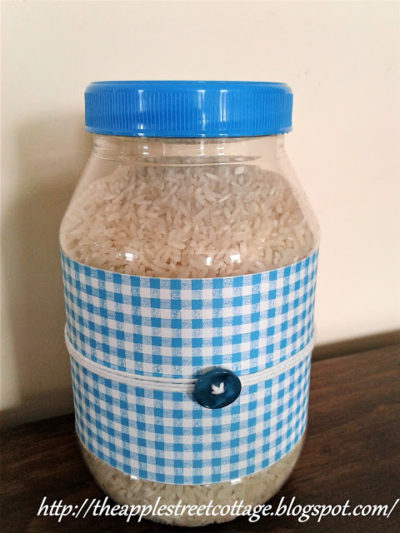 These Map Mason Jar Banks from Pillar Box Blue are the perfect way to save up that loose change for travel. And I am definitely not going to toss my old rims that are getting a bit too rusty for food usage.
These Buffalo Check Plaid Jars from Fresh Vintage by Lisa just scream spring to me. Yes, I know you can use any color scheme for any season.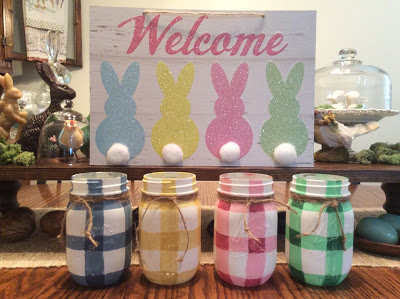 Hey crafting bloggers, did you know you mason jars were originally designed for long term storage of food? ha ha! Learn how to pressure can carrots from Powell River Books Blog.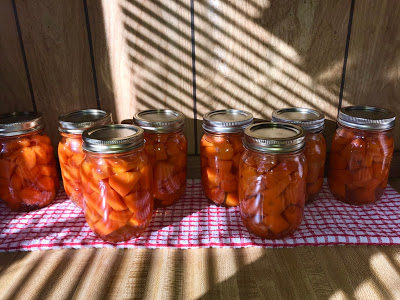 Now, let's get started now with this week's party. While you are here, we'd love it if you would visit the blogs of our lovely co-hosts!
A Labour Of Life
Blogghetti
Bluesky At Home
Crafting a Family
Ducks 'n a Row
Eclectic Red Barn
Love My Messy Messy Mess
Sweet Pea Lifestyle
That Recipe
The Painted Hinge
Upstate Ramblings
FOLLOW OUR PINTEREST BOARD!
ALL OF THE FEATURES ARE PINNED ON THE HAPPINESS IS HOMEMADE BOARD!
The rules? They are really simple! Make sure you visit a few other blogs and make some new friends along the way. Feel free to link up your favorite recipes, crafts or your latest DIY project. We want you you share it all! As always, please make sure to follow your hosts and co-hosts!! Link up your posts, make some friends, and earn the chance to be featured at Happiness Is Homemade Link Party! We will feature the favorite posts each week!
Disclaimer: Adding your link to this link party gives permission to all 12 Hosts, along with any co-hosts, guest hosts, and participants of Happiness Is Homemade, to share your posts and pictures via social media and as features, roundups, etc. with an explicit link back to your original source. Therefore, linking up you agree to allow us to use your images on each of our blogs in features relating to Happiness is Homemade Link Party.