You trudge into the kitchen after working all day and then you get to start the second shift and prepare dinner. Or you are running the kids around to all of their activities, juggling homework in between only to be serenaded by a chorus or two of "I'm starving".
Fast food gets expensive after awhile. And PB&J or a bowl of cereal get boring pretty fast.
You want to put a healthy meal on the table, but there never seems to be enough time.
Help is here. This mini cookbook has 10 easy recipes you can prepare in about 30 minutes. No fancy techniques or hard to find ingredients. You probably already have the ingredients for most of these in your kitchen now.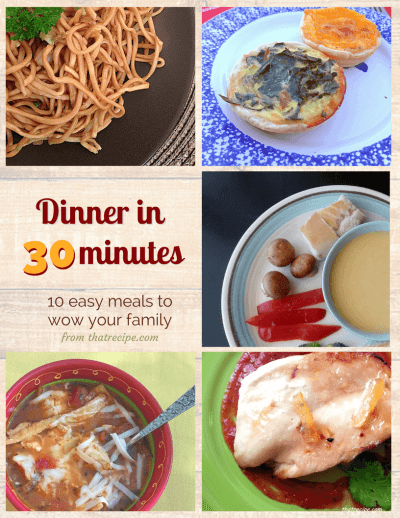 It includes recipes for beef, pork, chicken, eggs and seafood; plus many of the recipes can be made with whatever protein you prefer.
And if you sometimes have to worry about different taste preferences in your house (or am I the only one with "picky eaters"?), many of the recipes can be customized by the diner with very little effort on the cook's part.
Get the guide for free.
Just sign up below and the internet fairies will whisk it off to your inbox.
Additionally, you'll receive access to our other members only content and every week I will send you recipes and tips and other fun foodie things I find on this wonderful world wide web.
Don't worry, your information will not be sold or given to anyone else nor used by me for any other purpose. And there will always be an unsubscribe option in the e-mail if you decide it isn't for you.
See you in your inbox, happy eating.
~Audrey