Jump to Recipe
Print Recipe
Coconut and Butternut Squash Soup is a delicious creamy dairy free vegetarian (or vegan) or vegan soup that whips up in less than 30 minutes for a healthy weeknight fast meal.
If you are looking for a healthy and flavorful soup to warm you up on a chilly day, this Coconut and Butternut Squash Soup is just the ticket. And did I mention it can be ready in about 30 minutes? Gotta love weeknight fast.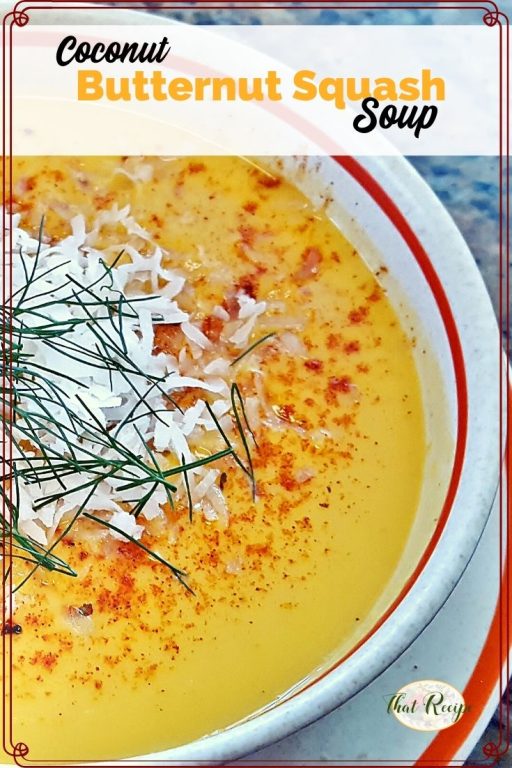 An important thing to know about making your own soup is that amounts don't have to be exact. If you have a little more or less squash that's okay. The original recipe called for 15 ounce cans of broth and coconut milk. My coconut milk can was a little less, but I use homemade broth so I splashed in a little more and added a bit more spices. I do love freshly grated nutmeg. MMMM!
How to make vegan Butternut Squash Soup
Chances are, if you are vegan, you are clever enough to know you just need to use vegetable broth instead of chicken broth.
I am merely typing this here with a big bold header because in the past I have had people blast me for claiming a recipe is vegan when it includes a non-vegan ingredients just because they chose to skip to the recipe and ignore the preceding text that offers possible substitutions.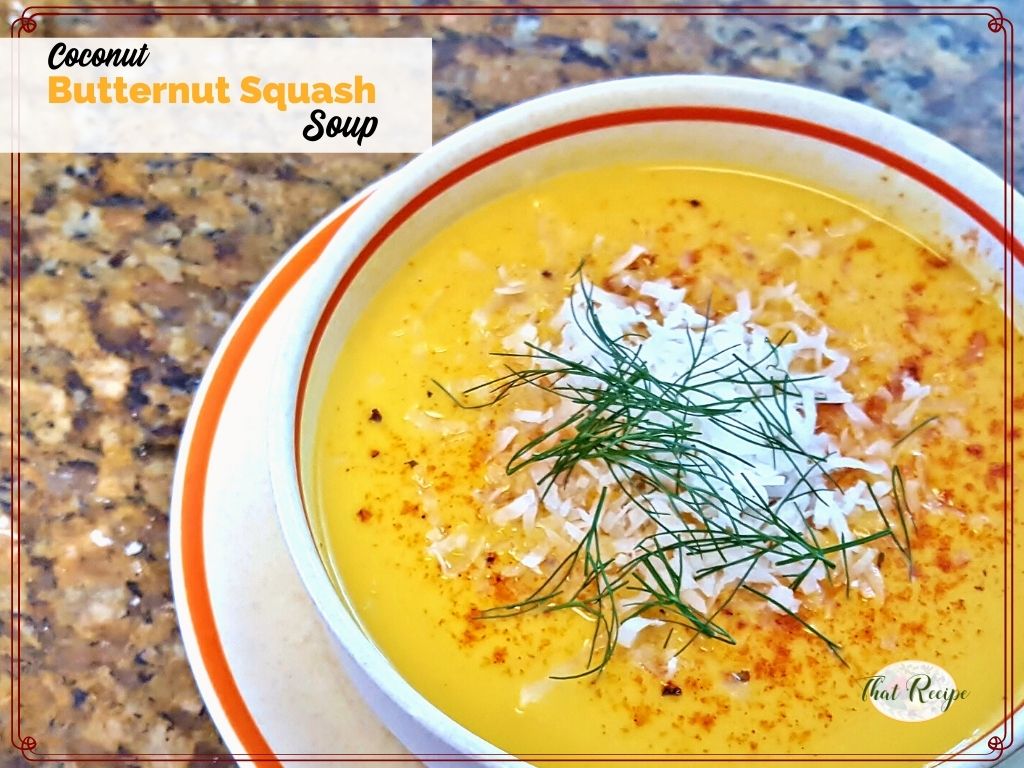 Ingredients
2

teaspoons

olive oil

1

cup

diced onion

2

cloves

garlic

(minced)

3

pound

butternut squash

(peeled and cut into about 1" cubes)

¼

teaspoon

ground nutmeg

¼

teaspoon

chili powder

¼

teaspoon

salt

2

cups

chicken or vegetable broth

(15 ounce can)

1

can

coconut milk

(13-15 ounce size)

unsweetened shredded coconut

pistachios or peanuts

(chopped and toasted)
Instructions
In a large stockpot heat olive oil, onions and garlic over medium heat. Cook until onions are translucent, about 5 minutes.

Add the diced squash, nutmeg, chili powder and salt. Cook for several minutes until you can begin to smell the spices.

Add the broth and coconut milk and simmer for 10-15 minutes until squash is tender and the liquid has cooked down a bit.

Puree the soup using an immersion blender, or put it in a blender/ food processor in batches.

To serve, sprinkle with shredded coconut and nuts as well as additional nutmeg and chili powder if desired.
More Vegetable Soup Recipes