Do you need a healthy and tasty soup that cooks up in under 30 minutes and will leave you feeling satisfied?
How about vegan, vegetarian, low fat and/or gluten free?
Then you are going to love this Creamy Carrot Lemongrass Soup.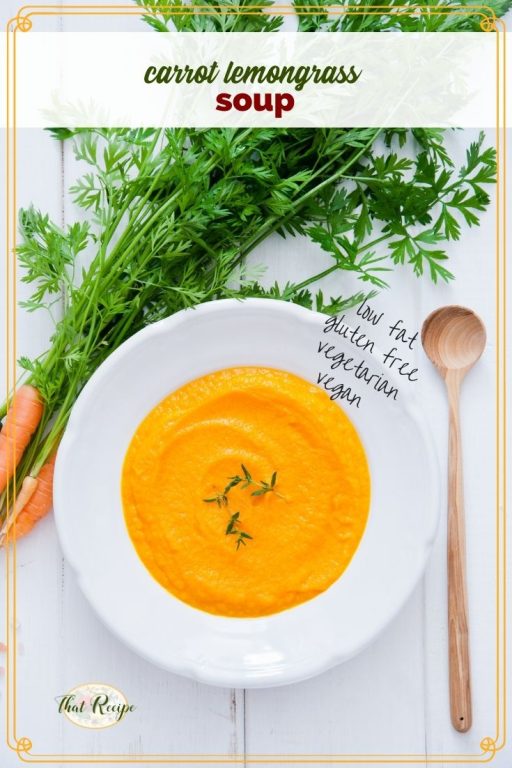 This soup is based on Carrot and Ginger Soup from Bitchin' Kitchen Cookin' for Trouble by Nadia G. I loved that show! Great food, great shoes and sarcasm, what's not to love? And the cookbook has some of my favorite recipes from the show.
This is a creamy soup without cream. Or any dairy products at all. It uses a little bit of potato to thicken the soup and give it a consistency you'd expect to need heavy dairy product to achieve.
What is lemongrass?
Lemongrass is a woody herb that has a subtle lemon flavor. I happen to grow my own thanks to a friend gifting me the plant.
You should be able to find fresh lemongrass at a well stocked supermarket. Or they may have it pre-crushed along with the other herbs in the produce department.
Tips for Carrot Lemongrass Soup
I didn't have any ginger, but I did have lemongrass which gave it a nice slightly salty lemon taste.
Ginger would be equally delicious so use a few slices of peeled fresh ginger, tossing it in with the potatoes and carrots if you'd like.
Like most soup recipes, the amounts given below are approximate. Adjust it to your own tastes.
I would recommend at least 2:1 carrot to potato ratio for maximum carrot flavor. I actually had it 50/50 and the carrot was overpowered by the potato. Don't get me wrong I like potato soup, but I was going for carrot here.
Carrot Lemongrass Soup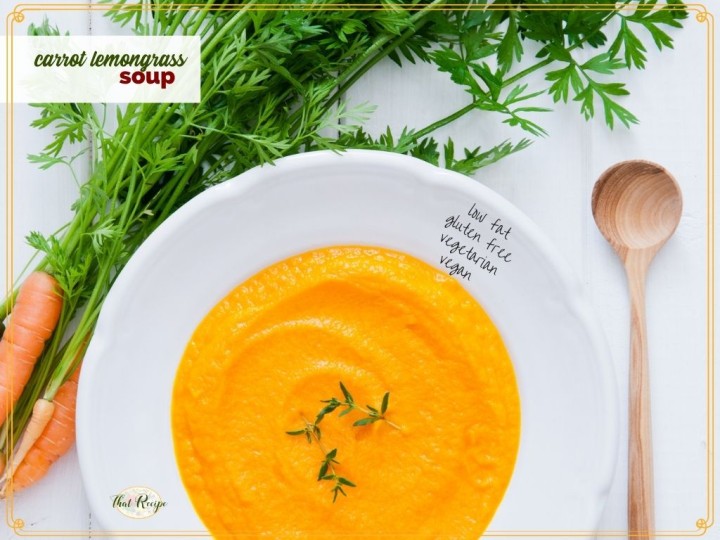 Ingredients
2-3

tablespoons

onions

(diced)

1

tablespoon

olive oil

2

cups

stock

(chicken or vegetable)

1

cup

carrots

(peeled and cut into ¼" rounds - 3 or 4 medium/large)

½

cup

potatoes

(peeled and diced - 1 small russet)

1

tablespoon

lemongrass
Instructions
In a medium pot, heat olive oil over medium heat and saute onions until translucent. About 2 minutes.

Add stock and scrape the bottom of the pot to loosen the browned bits (de-glaze). Add potatoes and carrots and cook until tender, about 15 minutes.

Use an immersion blender (or pour soup into a blender or food processor), add lemongrass and puree.

Taste, adjust seasonings if needed and serve.
Notes
The vegetable amounts are approximate. You want to have about twice as much carrots as potatoes (at least) so the taste of the carrots stands out
More Vegetable Soup Recipes
Until next time, happy eating
~Audrey